Buddhist Wisdom In Family, Work and Society
Seventeen years ago, when I founded our community, I could never have imagined all that we have achieved and gone through together. Thank you to everyone who has been with me on this journey. Welcome all the dear new friends who are joining with us now. And greetings to all our friends who are connected with us and stay connected through letters.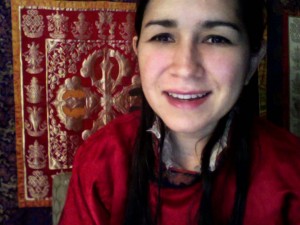 We have grown into a robust and diverse community, more diverse than most Tibetan Buddhist communities in America.
I feel proud to be a part of our vibrant sangha. We have an opportunity together to show the beauty and power of a
diverse community in harmony – a gift our world needs.
It is greatly important for us to continue our mission – to embody a community of practitioners dedicated to integrating Buddhist wisdom with work, family and society. Especially in this time in which we are having a national struggle over basic human values and a crisis in communication –  it is more important than ever that embodied Buddhist wisdom shows up to the world. Our world needs this embodied wisdom.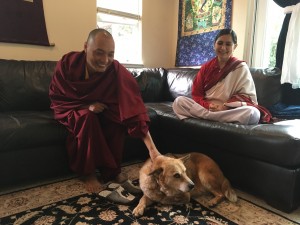 I founded Ngakpa International to promote a rare, understudied aspect of Tibetan culture. The world has already seen abundant examples of the power of the Buddhist celibacy and renunciation – so much so that it has become the face of Tibetan Buddhism. But that is only a partial picture. Tibet's Buddhist Yogis have played pivotal roles in the preservation and propagation of Tibetan culture at every major point in Tibetan history. However, they have been largely invisible as the world has adopted the pathways of larger institutions at the center of Tibetan political structures. This has been so positive but Tibetan Buddhism has more to offer and there has been at times an unfortunate assumption of false homogeneity. Our world needs Buddhist diversity.
The consequence of the assumption of a Buddhist monoculture is that many serious spiritual people believe that their desire to remain married, care for their families and keep their careers somehow disqualifies them for the most serious Buddhist practice. Many others have the mistaken assumption that such a style of practice – integrated with relationship, work and family – is a modern innovation. On the contrary – Tibet's Buddhist Yogis have integrated Buddhist practice with marriage, work, family and society for over a thousand years. They have passed on a rich tradition of support for those who seek to bring Buddhist wisdom into a demanding and complex life. Our world needs this knowledge.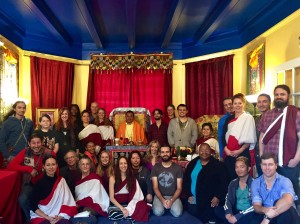 This is what drives me each day – the knowledge that the wisdom of Buddhist Yogis is sorely needed – a wisdom tradition that integrates with the world as much as it celebrates internal development. And now we see how badly such holistic wisdom is needed in our culture.
Maybe a small group such as ours can't change the whole world or the whole nation all at once – but we can create a potent and impeccable space – a community of wisdom, joy, dignity, warriorship and kindness – right where we are. We can create a community which serves as a resource and spiritual refuge for everyone who is connected to it. Today, there is such a great potential power of spiritual communities of all religions – perhaps it is the only way that institutional corruption can be contested on a massive social scale – because spiritual communities are organized, connected and have a voice.
What is your voice? What does it mean to speak out, resist and also have inner peace and cultivate love? These are the big questions of our time which will take training, introspection and a thorough 'higher' education to make sense of.
Four years ago I started offering Vajrayana Training and Ngakpa Training online because of this conviction: education is liberation. Buddhism teaches that every person has goodness in them, it is only ignorance that blocks it from manifesting. Education is the path out of ignorance. This is what Buddhism offers, a higher education on the issues that count; what is mind? what is the purpose of life? how do we live ethically? what does it mean to have compassion and set healthy boundaries? how can we uproot the cause of suffering? what is true joy? The answers to such questions can be found through training – a combination of learning and practice.
For such training to be accessible and sustainable over the long term, I have found that the combination of retreats and online study formats are ideal. Over the last few years, students have met with me twice a month, coming along with me on my travels all over the world through the power of the online format. We have met in my home, in my dharma centers and even in Tibet! I created this curriculum and teach these courses because –  if people can really understand Buddhist wisdom in-depth – it is the source of the greatest empowerment possible.
If we don't understand, or even try to train, then we would remain forever on the outskirts of a foreign tradition, living like the beggar who slept each night on a pillow made of gold and died without ever recognizing its value. But because education is liberation, through study and training we can discover the great wealth of wisdom that lies waiting within us. But it is not just within, it is also in our world, in our sacred good world, a world that needs us.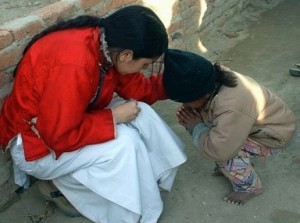 Because we share the conviction that education is liberation, we have also now for almost two full decades, supported orphans and ngakpa children in the Himalayas. This has given us the opportunity to make a huge difference in small communities which would otherwise be forgotten. In larger efforts to preserve Tibetan culture, it is the micro-communities and their unique traditions which get left behind. The ngakpa families whose children we have supported grow up in a life very different than most of ours, subsisting on farming, deprived of literacy, deprived of high school education and in the middle of a massive cultural annihilation under hegemonic forces. Our continued work to support these children is necessary. But in order to do that, we need to care for our non-profit organization on the home front, to catch up to some big changes we have recently gone through.
December for us is known as "the season of practice," and it is also the month of my birthday! This year I will be forty-two years old! Usually I use my birthday to fundraise for children in the Himalayas, but this year, I am asking for your help and asking you to join me supporting my mission and my life's work  – Ngakpa International – because without Ngakpa Intl, none of our projects at home or abroad can be sustained. For us to continue all of our activities, at this time donations are necessary and your contributions to this fundraising appeal will make a decisive difference.  
For the past two years, ourselves and other dharma organizations went through a major overhaul to comply with changes in non-profit laws for religious organizations. This was a massive expense. To add to that, the last two years contributions have been more lean, leaving us with an additional deficit. Meanwhile our programs have all been packed to the maximum attendance and our membership has grown and grown – so there is a great need to support Ngakpa International – so that it can continue to support so many positive activities, including all of the courses I have planned to offer you.
This year, my birthday wish, and Christmas wish combined is for donations to support Ngakpa International.
Please join me in donating to sustain our beautiful community and the source of all our projects – dharma programs, children's education, community meditations, a clinic, three centers, five communities, vajrayana training, ngakpa seminary, Buddhist Yogis Sangha worldwide membership, hosting guest teachers and so much more.
Every donation makes a difference! Without larger donations, we will not be able to realize our mission and without smaller donations we would not ever have made it this far – every act of giving counts. And every donation is an encouragement to me and the volunteers who work so tirelessly to make Ngakpa Intl possible. Every donation creates the world we long for – one of wakefulness, love and knowledge, one of profound wisdom integrated with family, work and society.
Join our 2016 Fundraising Campaign – Buddhist Yogis Thrive
In 2017 we have many programs planned – we have two new online classes led by me every month – Dakini Day and Dzogchen Day. This will allow me to guide you in meditation practice on a regular basis. It will also allow us to converse together as a community on a regular basis. I am so excited about this! We also have three trainings planned and of course our annual Dzogchen retreat. But none of this will be sustainable without donations. Tuition for programs covers only a fraction of the cost of these events. It is easy to donate online now to support Ngakpa International.
Our fundraising goal is $18,000 by January 1st 2017. So far we have raised $2750 and we have $1650 to go! Making a donation is joyful – giving is the new getting!
If you aren't already, please become a member or consider upgrading your membership level to provide ongoing support. Click here to view our new membership structure. You may also wish to include Ngakpa International in an endowment to ensure that our activities continue into the future.
Thank you to all of you who have donated and volunteered in 2017. It is the great joy of my life to study dharma alongside you.
Yours always,
Pema Khandro
Join the joyful Community of Buddhist Yogis in Berkeley
for an evening of Prayer, Practice and Celebration
of our Lama Pema Khandro Rinpoche's Birthday!
White Tara Meditation with Gyaldak Rinpoche
&
Birthday Celebration for Pema Khandro Rinpoche
We are so fortunate to welcome Gyaldak Rinpoche, who will be presiding and offering White Tara Meditation and a Tsok ceremony on behalf of Pema Khandro.
Festivities begin at
5:00pm
.
Suggested Donation: $20 – $108
No one turned away for lack of funds. All are welcome!