We are overjoyed to welcome Pema Khandro Rinpoche back to California.
She arrived this past Friday. This is a long awaited return! Please join us in welcoming her at our public program in Berkeley this Friday.  She has been away travelling in Asia for so long, and this is only time we will see her in Berkeley this year, so it is a VERY precious opportunity!
The program begins at 7pm at the MahaSiddha Center – 2328 Channing Way, and free and open to the public with a suggested donation of $15-$20 to support our non-profit organization. No one is ever turned away.
Explore a Buddhist perspective on love and compassion during the era of the mainstreaming of hate-speech. Taught by Tibetan Buddhist teacher and scholar, Pema Khandro Rinpoche, this evening will be a lecture and discussion on Tibetan Buddhist principles for transforming aggression and discovering decisive clarity which is loving and powerful at the same time.  This teaching is open to the public and will be held at the MahaSiddha Center in Berkeley California.
All are welcome. 
Click Here for More Info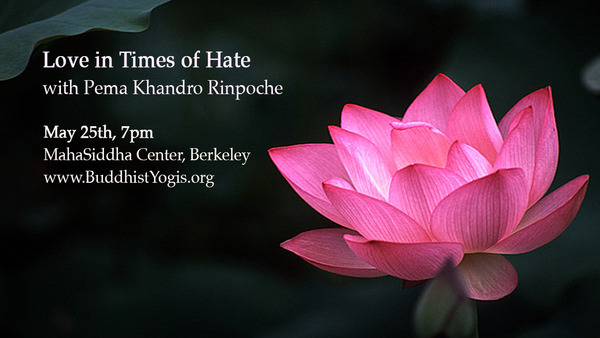 ---
Vajrayana Meditation Retreat with Pema Khandro
May 29 – Jun 3

Jikoji Zen Center, Santa Cruz Mountains
Retreat into the beautiful redwood forest, unwind with restorative yoga, experience deep meditation, enjoy organic vegetarian meals, converse with fascinating people and best of all, receive Buddhism's most profound teachings…
Register Now  –  We have a few spots left!
This meditation retreat focuses on Tibetan Buddhism's esoteric practice for transforming the most difficult experiences into opportunities for awakening, known as "Cutting Through" or Chod. It is a practice for opening to intrinsic wholeness, loving compassion, and natural resilience.
Chod is a dynamic meditation practice cherished by every lineage of Tibetan Buddhism. It incorporates, vision, mantra, prayer, music, and ritual to cultivate open-hearted presence as the path to non-dual awareness.
It is also a Buddhist method for healing and transforming the hidden content within one's own mind to release past traumas, undigested emotions and transform difficult experiences.
It is an ideal meditation practice for Vajrayana practitioners to train in because Chod includes every Vajrayana practice in its most essential form: refuge, bodhichitta, mandala offering, deity yoga, guru yoga, illusory body practice, transference of consciousness (Phowa) and more.
The retreat will alternate between teachings on Buddhist philosophy, training in Chod, dynamic meditation practice and silent sitting meditation. It will include instructions on:
How to use the instruments, drum, bell and thigh-bone trumpet
Chanting the Laughter of the Dakinis Chod in Tibetan & English
The visualization and meaning behind Chod
Black Vajrayogini Meditation
The Chod technique for working with emotions and subconscious mind
The song of the Dakinis of the five directions
Dzogchen and Chod – Buddhist philosophy on the nature of mind
Silent sitting meditation, the direct path to finding calm and quiet
The history and significance of the Longchen Nyingthig, the Heart Essence of the Vast Expanse
The retreat will begin on Saga Dawa, May 29th, the day of the Buddha's birth, death and enlightenment, the most important day of the year to be doing intensive contemplative practice. It will continue until June 3rd.
The retreat will be held in the beautiful redwood forest in North California, just outside Santa Cruz, at Jikoji Zen Center. At 2350 ft. elevation in the Santa Cruz mountains, the property has many unique features, such as a large pond (or small lake), places to pitch a tent (in addition to hostel type accommodations), and miles of hiking trails in the surrounding 1800 acres of Midpeninsula Regional Open Space District.
---
Upcoming Events with Pema Khandro
Public Teaching
May 25, 7pm     –  
Love in Times of Hate
, Berkeley MahaSiddha Center
Residential Retreats
May 29 – Jun 3
  –  
Vajrayana Meditation Retreat: Chod
, Jikoji Zen Center
Aug 14 – 19
       –  
Dzogchen Meditation Retreat
, Mount Madonna Center
Oct 19 – 21
        –  Vajra Sangha Retreat, Khandro Ling Retreat, Virginia
Teacher Training
Sep 13 – Oct 6
   –  Meditation Instructor Training, Online
Oct 22 – 25
        –  Group Leader Training, Khandro Ling Retreat, Virginia
---
Thanks to all the Buddhist Yogis who helped run our booth at the Himalayan Fair this past weekend in Berkeley, California.
Special Thanks to Tsal'gyur, Dedzin, Khalden, Robert, Darius, Detsal and Rindzin!