Dear Friends,
You are invited to join the joyful community of Buddhist Yogis in Berkeley for an evening of Prayer, Practice, and Celebration in honor of our Lama, Pema Khandro Rinpoche's Birthday!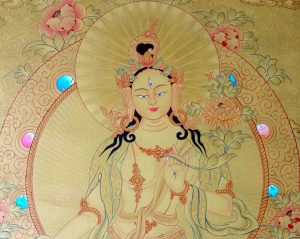 White Tara Tsok
Fundraiser and Birthday Celebration
for Pema Khandro Rinpoche
Tuesday, December 18th at 7pm
with Gyaldak Rinpoche
Address: 2929 Roosevelt Avenue, Richmond, CA, 94804
Email Tsalgyur@BuddhistYogis.org for more information and directions.
We Have Moved!
We are happy to welcome you to our new Home-based East Bay Center for our annual celebration of Pema Khandro Rinpoche's birthday.
The Berkeley Gompa is expanding and moving to become a full-blown recent center – see: DakiniMountain.org
We outgrew our old location and are in the process of selling that property and moving to our new center – Dakini Mountain! Our Santa Cruz community – the House of Bodhichitta, continues on in downtown Santa Cruz and we now have a small Gompa in Virginia. But, we still have so many friends and community in Berkeley and Pema Khandro Rinpoche plans to continue to return there annually.
We are so fortunate to welcome Gyaldak Rinpoche, who will be presiding and offering White Tara Meditation, mantras for World Peace and our loved ones, and a Tsok* ceremony on behalf of Pema Khandro Rinpoche. Tsok is a Tibetan Buddhist prayer and chanting ceremony involving shared food, offerings, and meditation. Please bring a favorite vegetarian dish to share for the Tsok, with an ingredient list for those with allergies, and please feel free to invite your loved ones and friends!
Pema Khandro Rinpoche's birthday wish is to realize the dream of Dakini Mountain, a place to journey into the experience of intrinsic goodness, to have experience of bliss and well-being in one's body and mind. This future retreat center will be a resource for our community to offer such experiences as our service to the world.
There are many ways to participate in helping make Pema Khandro's Birthday Wish come true!
Donate to Dakini Mountain and/or volunteer, attend in person, and/or sponsor a candle for yourself, your loved ones, and others. (Prayers will be made for those persons by name and will be dedicated to helping them. Candle Sponsorship is $9 – 108 per person.) Contact Tsal'gyur at Tsalgyur@BuddhistYogis.org to rsvp or for more information.
Silent Auction
A few of the very special White Tara prints (see below) will be offered by silent auction at this event, with very low starting bids!  Don't miss your chance to receive this one-of-a-kind scroll painting!
---
May we Meet at Dakini Mountain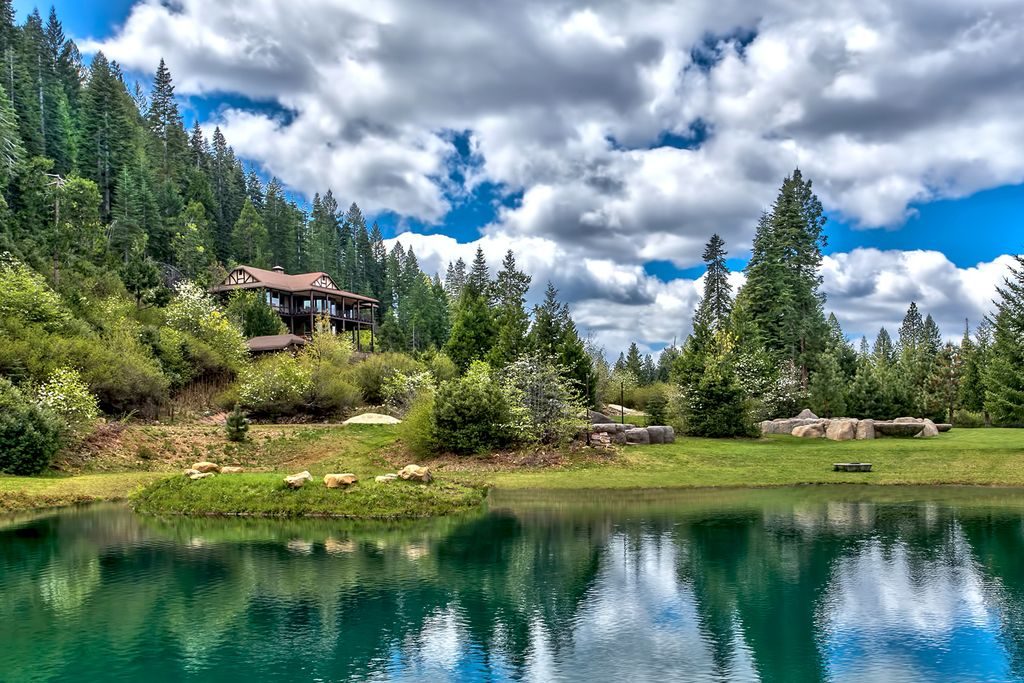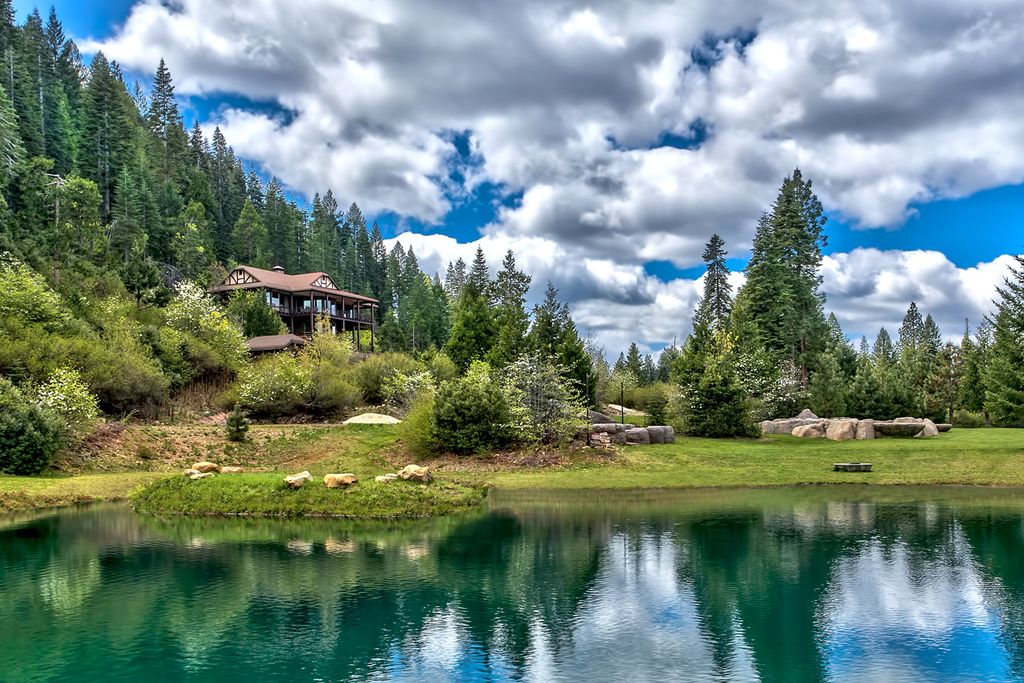 A Special Gift for Donors
Below you will find some Very Special White Tara Gifts that one of our members would like to give you as a special thanks for your generous donation – a White Tara scroll painting. White Tara is the female Buddha who embodies pure peace, forgiveness, extension of life, protection from destructive forces, and the bliss of recognizing our innate wisdom.
---
We've reached $50,081 – Please help us reach $60k!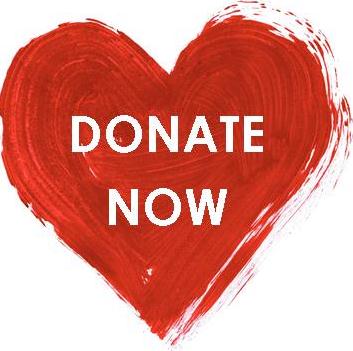 Ngakpa Intl is a 501(c)3 non-profit organization.
All donations areTax Deductible. Federal Tax Id# 68-0529687.
---
Very Special Gift for You
One of a Kind  – White Tara Thangka Print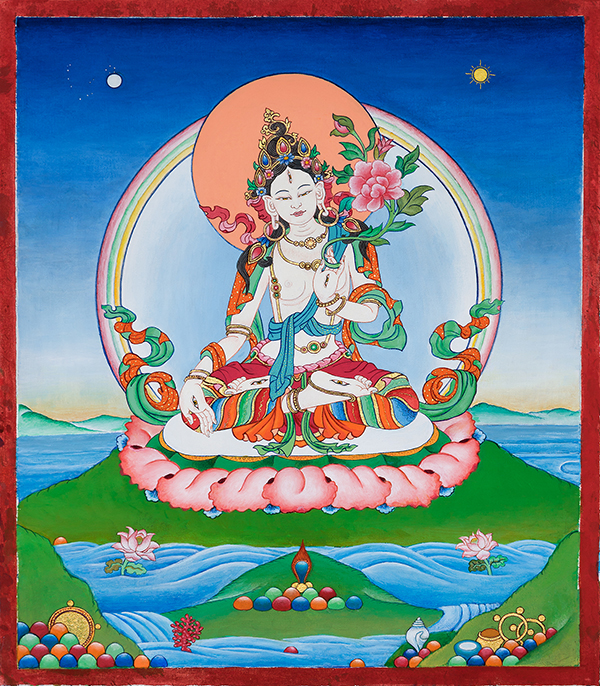 This special thangka image will not be reproduced outside of the Buddhist Yogis Sangha or for any other purposes. The image is meant for members and practitioners of Ngakpa International only, however, because of the importance of the Dakini Mountain location, donors now have an opportunity to receive this very special print of White Tara.
Message from the Artist
"This White Tara was made with great devotion and in a traditional manner. The original is stretched cotton sized with yak glue. The paint was made from stone pigments mixed with various binders and acrylic paint was used as well. The painting itself is painted in Karma Gadri style, which has greater compositional depth and detail as it combines all other styles, and is also considered a depiction reference of the 'pure land'. The two flowers in front are for my stepfather and mother. During its creation mantras and pujas were performed. When the eyes were 'opened,' referring to the painting of the eyes last to bring the thangka to life, it was done on the first day of the full moon. When done properly, the thangka will be 'alive' and subtle energy emanating from the image will affect the practitioner. If you are to receive one of these images please treat it with respect, devotion and honor. It will benefit your life." ~ Rin'dzin Prema
The artist has donated proceeds for a limited number of these prints as gifts for the donors of Dakini Mountain, as follows:
Archival Pigment Print – on Archival Paper
$1200 Donation – Small size 8×10"
Archival Pigment Print – on Premium Canvas
*Enhanced by the artist*
$2400 Donation – Small size 9×11
$3600 Donation – Medium size 12×14.5
$5000 Donation – Large Size 17×22 (*only one available in this size)
*Canvas prints to be framed or brocaded by the donor
Please make your Donation directly into our Dakini Mountain GoFundMe Campaign, and we will contact you for details on where to send your rare and beautiful One-of-a-Kind White Tara Thangka print.
---
Weekly Online Classes
Wednesdays at 6pm PT / 9pm ET
1st  Wed  –  Vajrayana Training
2nd Wed  –  Dzogchen Day for Members
3rd  Wed  –  Ngakpa Seminary for Teaching Assistants and Group Leaders
4th  Wed  –  Open Teaching – Starts again in January!
4th  Wed  –  Ngakpa Training 1 for Vajra Sangha students