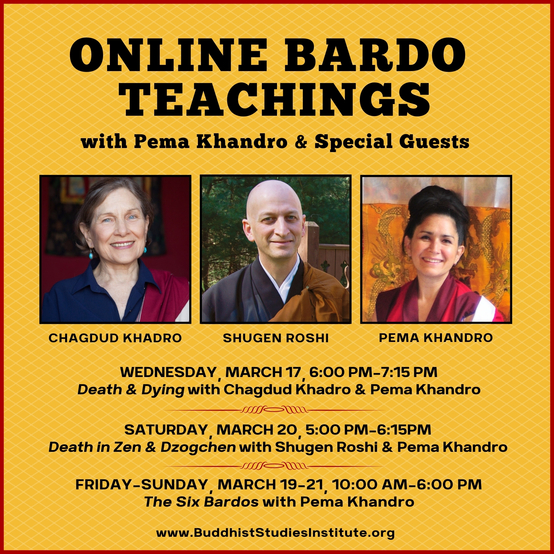 THE SIX BARDOS
Friday-Sunday, March 19-21st, 10am-6pm PT
The crossroads, junctures and turning points of our lives offer distinct opportunities for defining and discovering what we are. These moments that present us with death and birth, loss and change, beginnings and renewals are known as "bardos" in Tibetan Buddhism. Bardos are places in between the known and unknown, and can be potent moments of transformation or times when we solidify our confusion even further. 
To learn more about the concepts of Bardo, visit Pema Khandro's Article on Lion's Roar.
---
 Online Dzogchen Retreat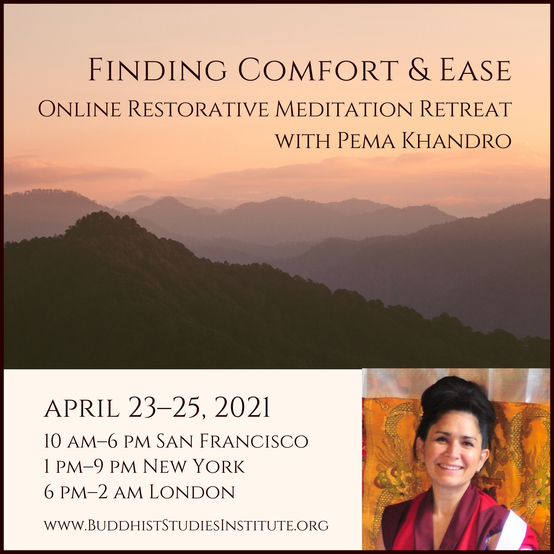 Online Retreat with Pema Khandro
April 23-25th, 2021, 10am-6pm PT
This retreat focuses on the paradox of resting in buddha-nature and recognizing illusions. It offers support for exploring Buddhist philosophy experientially through alternating dharma study and practice. The retreat is lead by Buddhist scholar and teacher, Pema Khandro, founder of the Buddhist Studies Institute. As a special event during the pandemic, Pema Khandro will lead the study of and practice of the sems nyid ngal gso, Longchenpa's instructions on Finding Comfort and Ease in the Nature of Mind, a classic text of the Nyingma lineage of Tibetan Buddhism. This retreat is led entirely online, with alternating sessions of group practice, small group discussions, yoga, meditation, lectures, question and answer sessions with Pema Khandro and private meetings at the end.
---
Self-Paced Courses
Sign up for any of the self-paced courses online through the Buddhist Studies Institute under the Online Curriculum.
Sutra Tantra Dzogchen
Online Learning with Pema Khandro — Learn at Your Own Pace
This course investigates the major principles of Buddhist Philosophy from the perspective of Tibetan Buddhism's great perfection teachings (Tib. rdzogs chen). In order to promote perception of oneself and reality with greater depth and perspective, it begins with an exploration of the Buddhist philosophy of personhood as a doorway to grappling with questions of ultimate reality.
MEMBERS-ONLY CLASSES
A study of Buddhist philosophy for students on the path of Vajrayana and Great Perfection (Dzogchen).
In-depth study of the Ngakpa Tradition for students who have completed pre-requisites. These classes continue the study of Buddhist philosophy examining source texts and discussing the main points of living a Buddhist life.