DAKINI DAY CHOD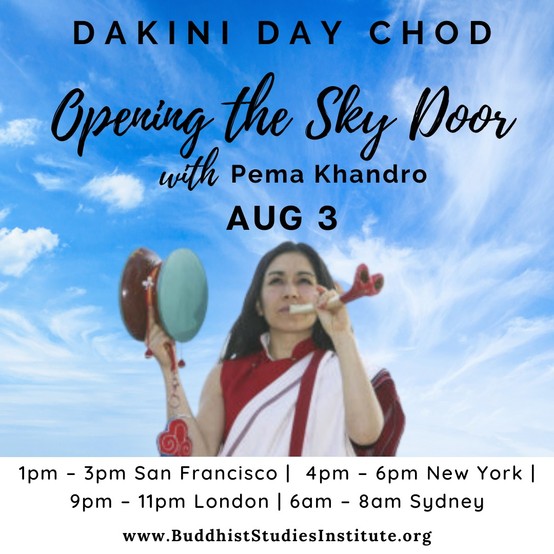 Dakini Day Chod – Opening the Sky Door
With Pema Khandro
August 3rd
1-3pm PT | 4-6pm ET
Meditation and Instructions on letting go of fictions and self-deception in Tibetan Chod meditation. Link to text will be shared during the program.
Chod is a meditation method through meeting fear and neurosis with compassion and skill. Rather than renounce these mind states, in Chod, they are allowed to transform and be as keys to innate wisdom.
---
DZOGCHEN SERIES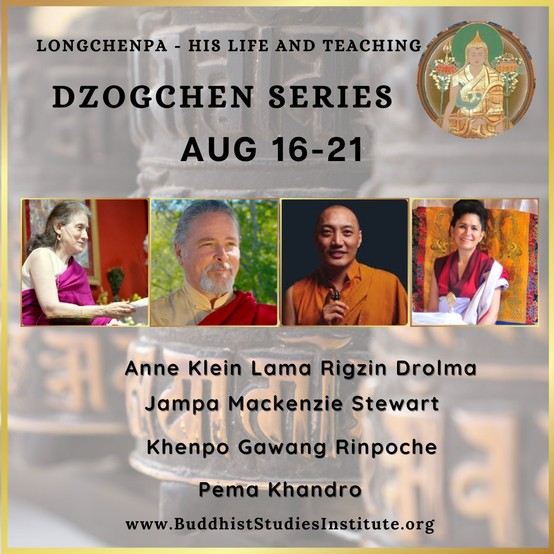 DZOGCHEN SERIES Longchenpa & His Life Teachings
with Anne Klein (Lama Rigzin Drolma)
Jampa Mackenzie Stewart
Khenpo Gawang Rinpoche
Pema Khandro
Aug 16th – 19th, 6-7:30pm PT – Guest Presenters
Sat Aug 21st, 10am-6pm PT – Longchenpa's Advice to Yogis
w/ Pema Khandro
One of the most celebrated scholars of Tibetan Buddhism was Longchenpa, a fourteenth century philosopher-yogi who wrote about Dzogchen.
Dzogchen is the esoteric tradition of Tibetan contemplation, regarded as the highest and most precious body of knowledge held by the Nyingma tradition. It emphasizes teachings on intrinsic buddha-nature as the true nature of every person and the ground of reality. It also emphasizes a contemplative relationship with the elements and environment.
Longchenpa's work on Dzogchen defined the tradition as it is practiced today. Longchenpa's extensive collected works synthesized the Dzogchen teachings and their relationship to the exoteric Buddhist philosophical movements.
This series features even lectures, scholars and teachers of Tibetan Buddhism specializing in the works of Longchenpa and Dzogchen. These classes will focus on the life and teachings of Longchenpa, followed by a day-long meditation course, all online. Join us in celebrating the history of Dzogchen and reflecting on its developments, views and contributions in the life and works of Longchenpa.
*This series has a limited enrollment of 100 participants.
---
BIPOC MEDITATION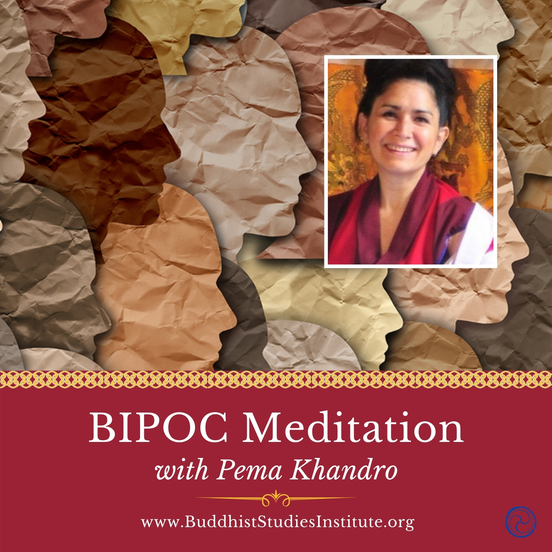 August 9th, 6pm PT | 9pm ET
BIPOC Meditation Group with Pema Khandro is for members who are BIPOC to practice together and talk about how race impacts our lives.
If you are interested in learning more about membership, please reach out to our Membership Coordinator at 

Membership@BuddhistStudiesInstitute.org

.
---
CANCELLED TONIGHT
Ngondro Practice has been CANCELLED this evening, August 2nd. We will notify everyone when we resume this practice.
---
UPCOMING EVENTS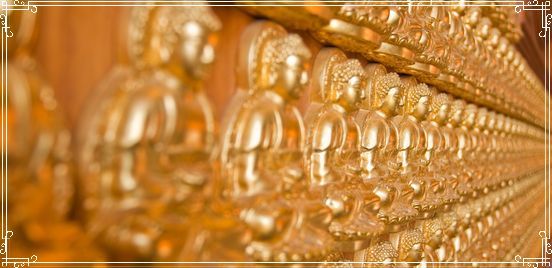 Daily & Weekly Programs
Meditation Mondays 6pm PT / 9pm ET
August 
September 
As more details roll out for our Upcoming Events, please visit the Event List Here.
---
MEMBERS ONLY CLASSES
Learn More about Membership
Email 

Membership@BuddhistStudiesInstitute.org
Bring a deep, engaged study of Buddhist Philosophy and practice into your life! Join this intimate study group for an ongoing study for students on the path of Vajrayana, led by Buddhist studies scholar, Pema Khandro. 
This includes the study of Tantra and Great Perfection (Dzogchen) as it is traditionally explained in source texts of the Tibetan tradition. Students will read a combination of materials translated by Pema Khandro as well as works published in English Translation. 
The course examines Vajrayana with multiple perspectives, considering how Vajrayana has been understood throughout history, how it is handed down traditionally today and how it engages with current paradigms. This is a non-sectarian class, with emphasis on approaches from the Nyingma school, but simultaneously offering a deliberate embrace of the numerous contesting views of Buddhist philosophy held by the various traditions of interpretation. This is a deep, traditional Buddhist study, without dogma, with ethics intact, in a community oriented towards thorough engagement with Buddhist texts and practice.
Vajrayana Training meets twice a month and includes meditation, lecture, discussion in small groups and in the whole class as well as question and answer period with Pema Khandro.
In-depth study of the Ngakpa Tradition for students who have completed pre-requisites. These classes continue the study of Buddhist philosophy examining source texts and discussing the main points of living a Buddhist life.