Happy Losar to all Friends and Sangha Members,
Happy Lunar New Year, year of the Female Iron Ox!
In Tibetan the term 'losar' literally means 'new year.' It refers to the lunar new year, a time for new beginnings. Last year had so many difficulties and challenges, so much raw emotion that was unleashed. As we begin the new year, may the difficulties be left behind but may the learning and wisdom that began last year remain and increase.
May we begin the new year by following the tradition of doing virtuous actions, the effects of which are said to be multiplied in the first days and weeks of the new year. Traditionally this includes making offerings to the shrine and to the three jewels, saving lives, practicing generosity of many forms.
This year the importance of nurturing harmony in the world has been made more evident than ever. This can be part of our virtuous work. We can start by making amends with family and friends, to take seriously that the wish "may all beings have peace," should be actualized in our direct relationships with family, friends, neighbors and sangha members. To cultivate peace in real relationships takes work, it takes time, humility and compassion for ourselves and others. It requires inner work as well as the bravery to work through things together. May we speak words of kindness, forgiveness and care. May we set boundaries well and care for our mental, spiritual and physical health. May we be there for ourselves and others. May we bravely nurture friendships new.
This year I am celebrating Losar at Khandro Ling in Virginia, but you are invited to join me in celebrating tomorrow evening, when we will have an online Losar celebration for members.
May you have much peace, health and joy in the new year. May all your wishes be fulfilled.

---
Tibetan New Year – Losar Celebration for Members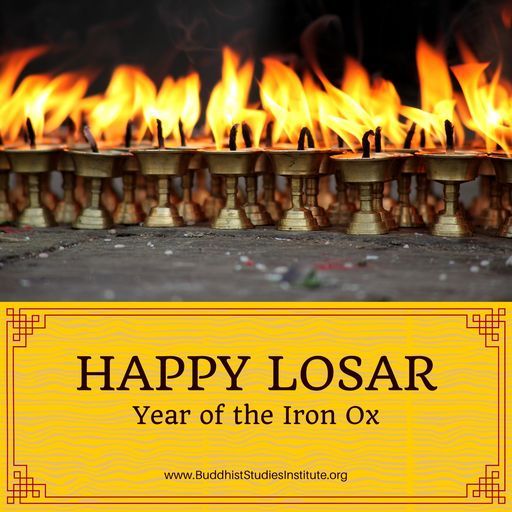 Tibetan New Year
Losar Celebration for Members
Feb 12, 6pm PT
Tibetan New Year – Losar Celebration for Members
Learn More About Membership
All Members of Ngakpa International and the Buddhist Studies Institute are welcomed to join our annual Tibetan New Year Celebration – Online!

---
Entering the Heart of the Vast Expanse
Purifying the Mind
Feb 22-24, 2021, 1-3pm PT
Longchen Nyingthig Ngondro Training
Vajrasattva Meditation and Purification of Karma
Ngondro are the foundational practices for purifying, training and empowering the mind.

---
ONLINE OPEN TEACHINGS
*All times are listed in Pacific Time UTC-8 (Timezone Converter)
The 100 Days of Practice is being extended year round!
Daily Meditation
A short free daily practice online and community time with certified meditation teachers.
Thursdays – Through April, 8am
A Course in Valid Cognition with Geshe Sonam
Winter Pramana Study

Feb 12, 6pm-8pm
Tibetan New Year – Losar Celebration for Members
Annual Member Celebration
Feb 24-26, 1-3pm
Ngondro Training
Purifying the Mind: Vajrasattva Meditation & Purification of Karma
Mar 17, 6pm
Being with Illness & Dying, with Pema Khandro and Esteemed Guests
By Donation. A free event open to the public. 
Mar 19-21, 10am-6pm
The Bardo Retreat with Pema Khandro
Pema Khandro will teach on the six bardos, Buddhist instructions for how to live wakefully in the phases of change within our lives. 
Apr 23-25, 10am-6pm
Dzogchen Meditation Retreat
April 25
Pema Khandro will be featured in this Dharma Dialogue Series on Women in Buddhism. 
---
MEMBERS-ONLY CLASSES
For students on the path of Vajrayana and Great Perfection (Dzogchen) 
In-depth study of the Ngakpa Tradition
Every Monday until Feb 12 (Tibetan New Year) – Meditation Mondays

Group Meditation with Janak Kimmel & Guest Teachers
---
DAKINI MOUNTAIN NEWS
Seeking Land Manager for Dakini Mountain
Seeking a land manager for twenty hours a week in exchange for someone who wants to do off grid living with your own self-sustaining mobile home/RV system on Dakini Mountain property and free Buddhist Studies Institute courses. No RV hookups are here but it is the one of the most beautiful places on earth. Applicants must have farm experience, landscaping skills, construction, building knowledge, handyman skills etc, as well as capacity to be self-motivated, self-starting, work with others, take direction well and problem solve. Past experience as well as three employment references are required. Please send your resume, a photo, along with the name and contact for three employment references to Info@DakiniMountain.org.
Do you have Business and/or Real Estate Expertise?
Seeking conversation partners in reshaping the future of Dakini Mountain – seeking to converse with people with experience in real estate and running businesses as we re-vision how Dakini Mountain will take shape during the pandemic and beyond. Contact Info@DakiniMountain.org.