PEMA KHANDRO'S BIRTHDAY CELEBRATION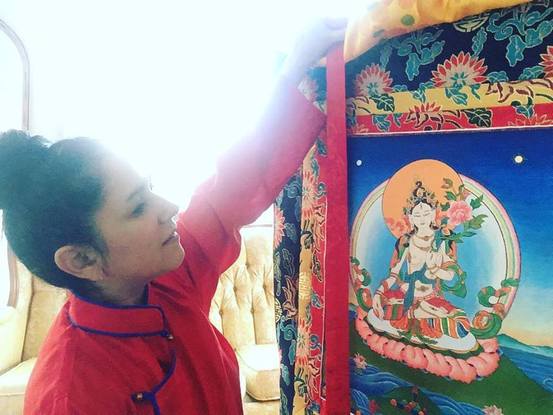 You are Invited!
Wednesday, December 15th
6-7:30pm PT  |  9-10:30pm ET
Every year on Pema Khandro's birthday, the community celebrates together. This year, due to the pandemic, this event will be online we cordially invite you to join us on this special heart-felt occasion.
White Tara practice led by Pema Khandro, 

Tsok Offering led by the Group leaders

A talk by Pema Khandro about her life's work

Performances by community members

Pema Khandro appreciation ceremony

Fundraising for Dakini Mountain

Birthday Wish
Pema Khandro's birthday wish is for all the proceeds to go to the Dakini Mountain Emergency Fund.
Dakini Mountain is a retreat center that Pema Khandro dreamed about for decades and now it has come to fruition but relies on your support for its continuation. Due to the temporary suspension of group retreats at Dakini Mountain as a result of the pandemic, this year's fundraiser is more important than ever! Join us for this opportunity to celebrate Pema Khandro's birthday, fundraise for this amazing project and practice meditation and tsok together in a vibrant Vajrayana community.
Can't come in person but still want to support the fundraiser? Register to join anyway, your donations are greatly appreciated and a thank you card with all the list of the donors will be read at the end to Pema Khandro of the evening!
---
NGONDRO TRAINING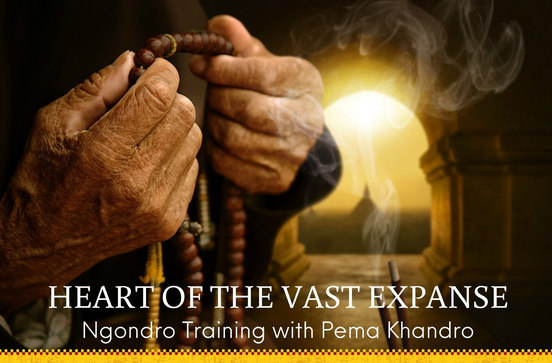 This is the year you will finally finish Ngondro!
Begins January 24th, 2022
Self Paced Classes
Live Webinars
Weekly Practice Group
Ngondro is a series of Vajrayana meditation practices for cleansing, training and empowering the body-mind. Also known as the 'tantric preliminaries,' ngondro literally means 'before going,' referring to the training one needs to be on the path of liberation.
Ngondro also serves as the foundation for the highest practices of Tibetan Buddhism, it is the pre-requisite to Tsa-lung and Dzogchen practices. Ngondro represents the cognitive, physical, emotional and philosophical components which are keys to the practice of liberation.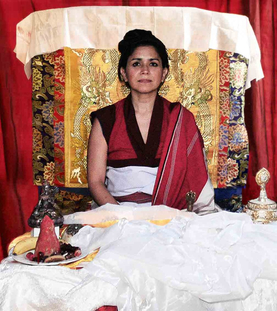 Join the Ngondro Training at the first Live Webinar Class with Pema Khandro on January 24th 2022. Then get all your questions answered in the quarterly live classes with Pema Khandro.
Self Paced Classes and Webinars
with Pema Khandro
Ngondro self-paced classes and live webinars will be led by Lama Pema Khandro, scholar and teacher of Tibetan Buddhism. Khandro-la's teachings emphasize Buddhist philosophy and practice from a trauma-informed, feminist perspective that engages tradition with the great questions of our time. Classes with Pema Khandro will be given by self-paced videos and live meetings once a quarter, with practice sessions led in between by Tsalgyur.
New for 2022:
Monday Nights
Ngondro Practice
Led by Tsalgyur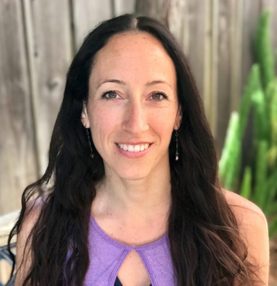 Ngondro students can enjoy support to accomplish the accumulations with a weekly online practice group. It is optional to join with your ngondro community every Monday night in Ngondro practice led by Tsalgyur. 
Also foster community through signing up for accountability partner to support each other through the journey. 
About Tsal'gyur Dorje Tsalgyur has been studying with Pema Khandro  since 2005. She is the Membership Co-ordinator and Registrar for the Buddhist Studies Institute, and has been on the leadership team for Ngakpa International since 2012. Tsal'gyur is a certified Yoga Instructor, Meditation Teacher, and Teaching Assistant in the school. Having danced professionally for 10 years, she now teaches ballet, yoga, and meditation in group classes and private lessons.
---
THANGKAS FOR SALE
The Perfect Christmas Gift!
Benefit Dakini Mountain
Benefit Your Meditation Practice
Benefit the Thangka Painters in Nepal
Several beautiful Thangkas and silk brocades were hand selected and brought to us by our good friend James Aplington (aka Thankga Jim) and the Lotus Gallery in Nepal.  As a way to help develop Dakini Mountain, they will donate half of the profit of these rare Thangkas to the development of Dakini Mountain.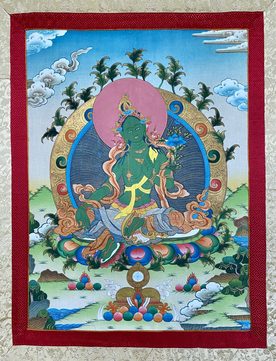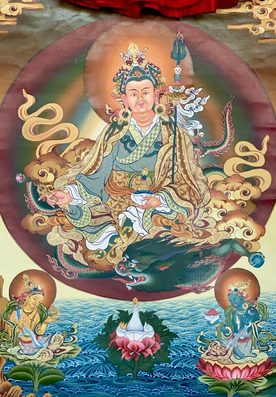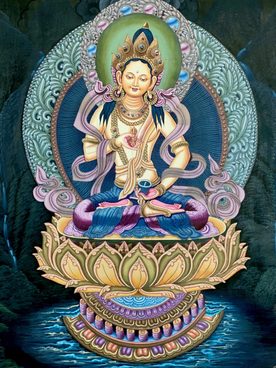 To request one of these Thangkas or for more information, please email Info@BuddhistStudiesInstitute.org.
---
UPCOMING EVENTS & OTHER NEWS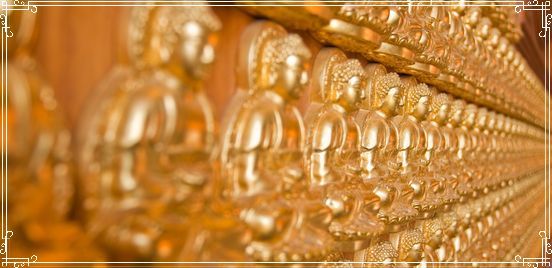 Daily & Weekly Programs
December
January – Next Ngondro Training Cycle Begins in January!!!
March – Next MIT begins in March!
Mar 26, 2022, Meditation Instructor Training Begins, Details TBA
As more details roll out for our Upcoming Events, please visit the Event List Here.
---
SELF-PACED COURSES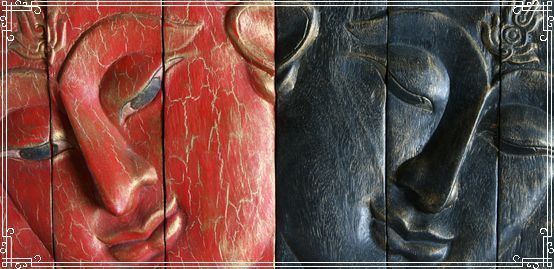 Open Teaching – No Prerequisites
The Five Buddhist Precepts are a discipline of freedom, honor, openness and precision that cover the potent themes of life from the uncommon, extraordinary perspective of non-duality.
Topics covered in this course include
Buddhist theories about vegetarian lifestyle vs. meat-eating, 

Buddhist perspectives on alcohol and drug use, 

Conscious use of sexual energy, Buddhist philosophy about desire

Handling resources, money and spirituality

Honesty, and the speech that takes us beyond confusion.
---
PEMA KHANDRO ON LION'S ROAR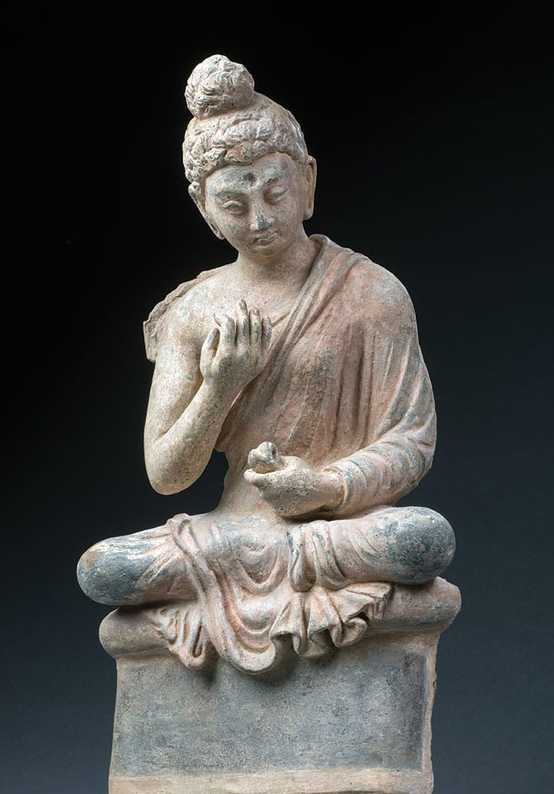 By Pema Khandro Rinpoche | June 16th, 2020
Pema Khandro Rinpoche on cultivating the boundless love of a bodhisattva.