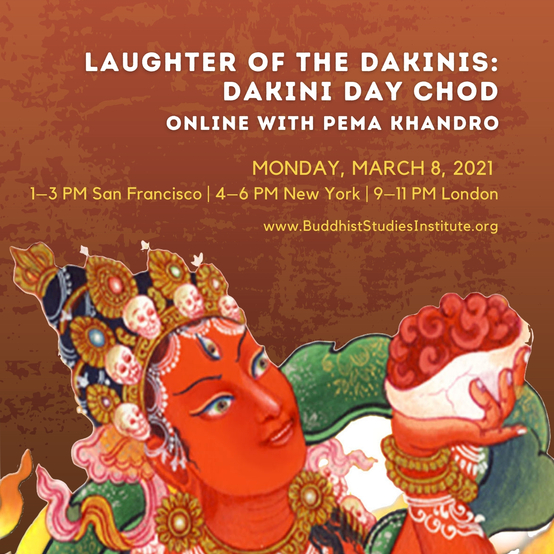 March 8th, 2021, 1-3pm PT
Chod is a meditation method through meeting fear and neurosis with compassion and skill. Rather than renounce these mind states, in Chod, they are allowed to transform and be reintegrated as keys to innate wisdom.
This is a Tibetan meditation which is a potent, dynamic practice for cutting through fear and facing death. It is a practice of healing through ultimate compassion. The practice is the Dzogchen Chod, known as Khandro Geykyang, the Laugher of the Dakinis, the concise version. Rinpoche will lead the practice and discuss its meaning. This has been a monthly practice in Virginia for the last two years on Dakini Day, but in-person Chod practices are cancelled and Pema Khandro will now be offering Chod practice online for the first time, in order to support Vajrayana practitioners during the worldwide pandemic.
 The Bardo Teachings with Pema Khandro
March 19-21st, 2021, 10am-6pm PT
Bardo refers to the experience of rupture- of endings and uncertainty – that leave us suspended in the liminal spaces between what was and what will be. Bardo refers to dying and post death as well as to states of radical transformation in life. Pema Khandro will teach on the six bardos, Buddhist instructions for how to live wakefully in the phases of change within our lives.

---
Self-Paced Courses
Buddhism As a Way of Life
Online Training with Pema Khandro – Learn at Your Own Pace
Includes 6 video and audio recordings, class slides and a question/comment section.

---
ONLINE OPEN TEACHINGS
*All times are listed in Pacific Time UTC-8 (Timezone Converter)
 The 100 Days of Practice is being extended year round!
Starts Feb 12th, 12pm
Daily Meditation
Join our certified meditation instructors for a short free daily practice online. Each day meditation is followed by conversations about Buddhism.
Thursdays – Through April, 8am
A Course in Valid Cognition with Geshe Sonam
Winter Pramana Study
Mar 8, 1-3pm
Laughter of the Dakinis: Dakini Day Chod
Meditation and instructions on letting go of fictions and self-deception in Tibetan Chod meditation. 
Mar 17, 6-7:15pm
Bardo Teachings – Death & Dying, with Chagdud Khadro & Pema Khandro 
By Donation. A free event open to the public. 
Mar 19-21, 10am-6pm
The Bardo Retreat with Pema Khandro
Pema Khandro will teach on the six bardos, Buddhist instructions for how to live wakefully in the phases of change within our lives.
Mar 20, 5-6:15pm
Bardo Teachings – Death in Zen & Dzogchen, Shugen Roshi & Pema Khandro
By Donation. A free event open to the public.  
Apr 23-25, 10am-6pm
Pema Khandro teachings on Longchenpa's Finding Comfort and Ease in the nature of mind.
April 25
Pema Khandro and Lama Willa in the Dharma Dialogue Series on Women in Buddhism. 
---
MEMBERS-ONLY CLASSES
A study of Buddhist philosophy for students on the path of Vajrayana and Great Perfection (Dzogchen).
In-depth study of the Ngakpa Tradition for students who have completed pre-requisites. These classes continue the study of Buddhist philosophy examining source texts and discussing the main points of living a Buddhist life. 
---
DAKINI MOUNTAIN NEWS
Seeking Land Manager for Dakini Mountain
Seeking a land manager for twenty hours a week in exchange for someone who wants to do off grid living with your own self-sustaining mobile home/RV system on Dakini Mountain property and free Buddhist Studies Institute courses. No RV hookups are here but it is the one of the most beautiful places on earth. Applicants must have farm experience, landscaping skills, construction, building knowledge, handyman skills etc, as well as capacity to be self-motivated, self-starting, work with others, take direction well and problem solve. Past experience as well as three employment references are required. Please send your resume, a photo, along with the name and contact for three employment references to Info@DakiniMountain.org.
Do you have Business and/or Real Estate Expertise?
Seeking conversation partners in reshaping the future of Dakini Mountain – seeking to converse with people with experience in real estate and running businesses as we re-vision how Dakini Mountain will take shape during the pandemic and beyond. Contact Info@DakiniMountain.org.