Online Dzogchen Retreat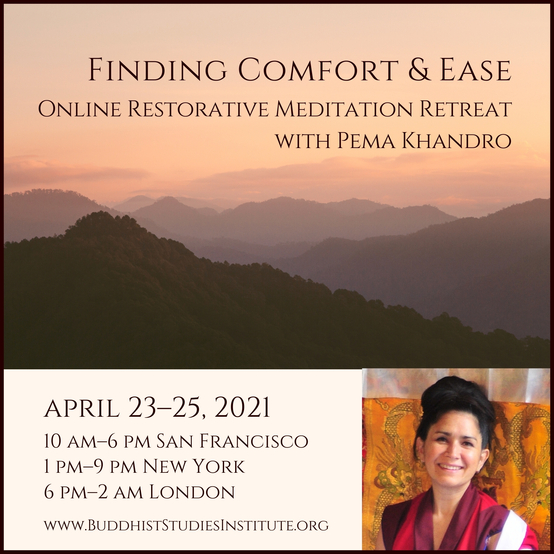 Online Dzogchen Retreat with Pema Khandro
April 23-25th, 2021, 10am-6pm PT
This retreat focuses on the paradox of resting in buddha-nature and recognizing illusions. It offers support for exploring Buddhist philosophy experientially through alternating dharma study and practice. The retreat is lead by Buddhist scholar and teacher, Pema Khandro, founder of the Buddhist Studies Institute. As a special event during the pandemic, Pema Khandro will lead the study of and practice of the sems nyid ngal gso, Longchenpa's instructions on Finding Comfort and Ease in the Nature of Mind, a classic text of the Nyingma lineage of Tibetan Buddhism. This retreat is led entirely online, with alternating sessions of group practice, small group discussions, yoga, meditation, lectures, question and answer sessions with Pema Khandro and private meetings at the end.
ABOUT THE RETREAT
Buddhist Philosophy
Pema Khandro teaches from "The Mirror Illuminating the Heart," and Longchenpa's instructions on Finding Comfort and Ease in the Nature of Mind. These are treasured teachings of Tibetan Buddhism's Dzogchen Nyingthig teachings on the vast view. These beautiful teachings consider the fundamental nature of mind and reality.
Dzogchen
Dzogchen is the most protected and sacred practice and study cycle of Tibetan Buddhism. From the time of its early formation, it included an array of practices which center on the elements, the natural world, dynamic exercises with body and mind as well as the more restricted practices. As philosophy, Dzogchen presents a view of the world that emphasizes buddhanature and natural wakefulness as the core of one's experience and the fabric of reality. Dzogchen is taught in the Nyingma lineage as the practice that one concentrates upon after the preliminaries (ngondro) in order to begin to work directly with ones mind in simple, dynamic and potent methods.
Group Meditation Classes
Pema Khandro will teach from the 27 Practices for training for Dzogchen meditation from the sems nyid ngal gso, Longchenpa's instructions on Finding Comfort and Ease in the Nature of Mind.
Heart Sutra Chanting
Remember the profound teachings that unravel it all at the root. Afternoon Heart Sutra chanting will be led in English by Buddhist Studies Institute Faculty.
Dharma Conversations
Spiritual community is an important aspect of Buddhist practice, and it is even more important during the times of pandemic when in-person gatherings are limited. Join your fellow community members in dharma conversations during afternoon tea breaks (bring your own tea!). These are guided, small group conversations led by the teaching assistants.
Restorative Yoga
Unwind, let go of stress and give your body support. This simple, slow, bliss yoga class is designed to give rest and release to your body and mind. Each afternoon session will begin with an optional yoga class for you to do at home led by Buddhist Studies Institute Faculty. 
Deep Practice
Unplug. Disconnect. Take space for inner silence and chanting meditation. Share silence together. Enjoy deep dharma study. This retreat includes guidance and support for taking a break from social media and news to create space for reflection and to declutter the mind. There is an optional one hour social media period suggested each day for those who want to reduce but need to stay plugged in.
Private Meetings
Individual meetings with Pema Khandro will be set up on the days following the retreat in order to accommodate the online format. These are optional short meetings to discuss practice or Buddhist study questions. Instructions to sign up for a time will be given after registration. 
About Pre-requisites
How and when Dzogchen meditation is taught varies widely today. For this retreat, previous meditation experience and a history of meditation practice is necessary to fully appreciate and engage in the practices. It is ideal if one is comfortable doing extended periods of study and practice. The most restricted practices of Dzogchen, breakthrough and direct transcendence, are not included in this retreat. Instead the focus is on instructions for evoking peace within body and mind from Longchenpa's great work on Dzogchen, the sems nyid ngal gso, "Finding Comfort and Ease in the Nature of Mind."
---
PODCAST EPISODES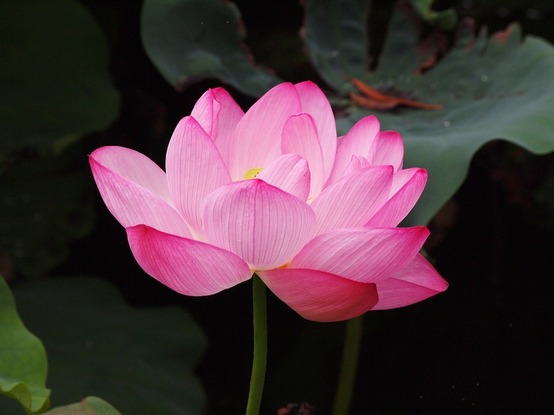 Author, teacher, and founder of the Dongyu Gatsal Ling Nunnery, Tenzin Palmo has a frank discussion with fellow teacher and scholar, Pema Khandro Rinpoche about what advice Buddhism has to offer about health and illness during a time of pandemic. Tenzin Palmo also shares what she's learned about suffering and gratitude while on solitary retreat in a Himalayan cave for 12 years, and what she did after.
---
ONLINE OPEN TEACHINGS
*All times are listed in Pacific Time UTC-8 (Timezone Converter)
Daily Meditation – Online
Join our certified meditation instructors for a short free daily practice online. Each day meditation is followed by a brief discussion on Buddhist ethics.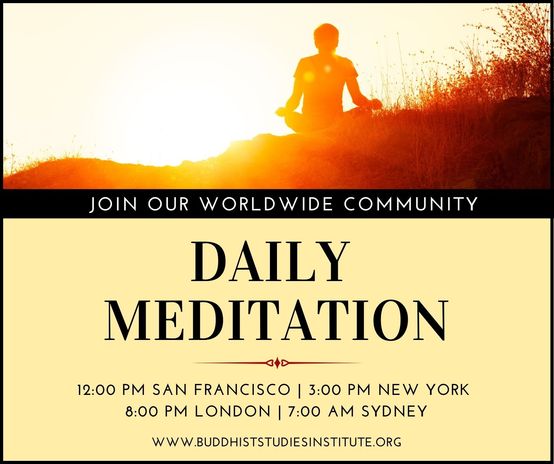 Thursdays – Through April, 8am
A Course in Valid Cognition with Geshe Sonam
Winter Pramana Study, Join Any Time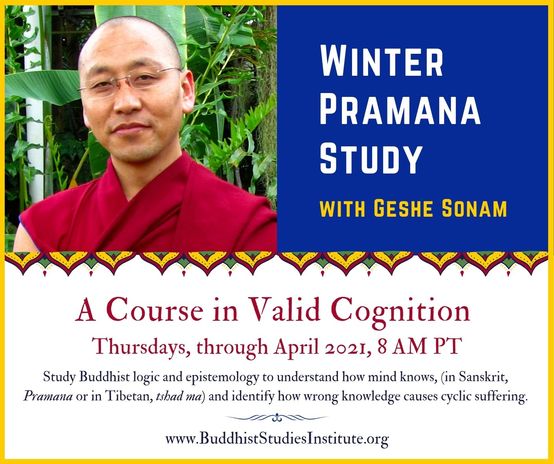 ---
MEMBERS-ONLY CLASSES
Bring a deep, engaged study of Buddhist Philosophy and practice into your life! Join this intimate study group for an ongoing study for students on the path of Vajrayana, led by Buddhist studies scholar, Pema Khandro. 
This includes the study of Tantra and Great Perfection (Dzogchen) as it is traditionally explained in source texts of the Tibetan tradition. Students will read a combination of materials translated by Pema Khandro as well as works published in English Translation. 
The course examines Vajrayana with multiple perspectives, considering how Vajrayana has been understood throughout history, how it is handed down traditionally today and how it engages with current paradigms. This is a non-sectarian class, with emphasis on approaches from the Nyingma school, but simultaneously offering a deliberate embrace of the numerous contesting views of Buddhist philosophy held by the various traditions of interpretation. This is a deep, traditional Buddhist study, without dogma, with ethics intact, in a community oriented towards thorough engagement with Buddhist texts and practice.
Vajrayana Training meets twice a month and includes meditation, lecture, discussion in small groups and in the whole class as well as question and answer period with Pema Khandro.
In-depth study of the Ngakpa Tradition for students who have completed pre-requisites. These classes continue the study of Buddhist philosophy examining source texts and discussing the main points of living a Buddhist life.