Bardo Teachings – Death in Zen & Dzogchen
With Shugen Roshi & Pema Khandro
Saturday, March 20th, 5-6:15pm PT
Join Pema Khandro and Shugen Roshi for a conversation on Death in Zen and Dzogchen – offered as part of The Bardo Teachings. Bardos are places between the known and the unknown and can be potent moments of transformation.
Geoffrey Shugen Arnold, Roshi, is the Head of the Mountains and Rivers Order, abbot and resident teacher of Zen Mountain Monastery, and abbot of the Zen Center of New York City. His teachings on Zen, social justice and environmental stewardship have appeared in various Buddhist journals and The Best Buddhist Writing 2009 (Shambhala Publications). His book of poetry, "O, Beautiful End," a collection of Zen memorial poems, was published in 2012.
Pema Khandro Rinpoche is a teacher and scholar of Buddhist philosophy. She is the founder of Ngakpa International and its three projects, The Buddhist Studies Institute, Dakini Mountain and the Yogic Medicine Institute. She is an authorized Lama and lineage holder of the Nyingma and Kagyu traditions. She has led a vibrant world-wide community since 1999. Through the Buddhist Studies Institute, she also offers a complete curriculum of training in Buddhist Philosophy and practice.
Click here to Register Now for Death in Zen & Dzogchen
---
The Bardo Teachings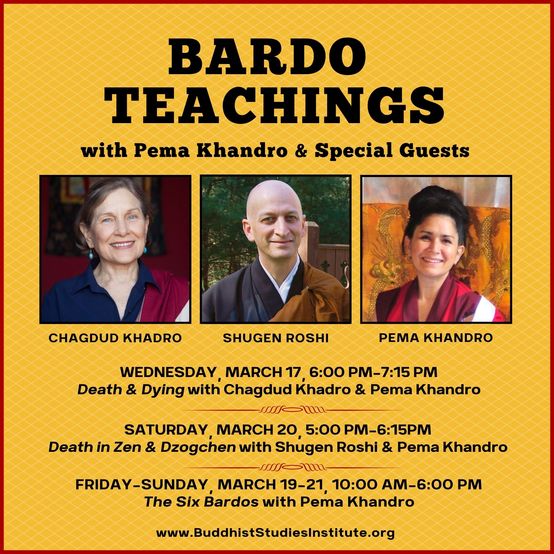 Mar 17, 6-7:15pm
Death & Dying with Chagdud Khadro & Pema Khandro 
By Donation. A free event open to the public. 
Mar 20, 5-6:15pm
Death in Zen & Dzogchen with Shugen Roshi & Pema Khandro
By Donation. A free event open to the public.  
Mar 19-21, 10am-6pm
The Six Bardos with Pema Khandro
Pema Khandro will give a weekend teaching on the Six Bardos, Buddhist instructions for how to live wakefully in the phases of change within our lives.
---
Online Dzogchen Retreat
Online Dzogchen Retreat with Pema Khandro
April 23-25th, 2021, 10am-6pm PT
This retreat focuses on the paradox of resting in buddha-nature and recognizing illusions. It offers support for exploring Buddhist philosophy experientially through alternating dharma study and practice. The retreat is lead by Buddhist scholar and teacher, Pema Khandro, founder of the Buddhist Studies Institute. As a special event during the pandemic, Pema Khandro will lead the study of and practice of the sems nyid ngal gso, Longchenpa's instructions on Finding Comfort and Ease in the Nature of Mind, a classic text of the Nyingma lineage of Tibetan Buddhism. This retreat is led entirely online, with alternating sessions of group practice, small group discussions, yoga, meditation, lectures, question and answer sessions with Pema Khandro and private meetings at the end.
---
ONLINE OPEN TEACHINGS
*All times are listed in Pacific Time UTC-8 (Timezone Converter)
Daily Meditation – Online
Join our certified meditation instructors for a short free daily practice online. Each day meditation is followed by a brief discussion on Buddhist ethics.
Thursdays – Through April, 8am
A Course in Valid Cognition with Geshe Sonam
Winter Pramana Study, Join Any Time
---
MEMBERS-ONLY CLASSES
A study of Buddhist philosophy for students on the path of Vajrayana and Great Perfection (Dzogchen).
In-depth study of the Ngakpa Tradition for students who have completed pre-requisites. These classes continue the study of Buddhist philosophy examining source texts and discussing the main points of living a Buddhist life.