A Holiday Letter from Pema Khandro
Soothing Fear Through Empathy & Compassion 
Compassion and Empathy have a role to play in dealing with fear and anxiety.
It is understandable to have fear. It is understandable to feel anxious. These are the times that fight or flight responses are made for! Buddhist approaches to fear are numerous. There is the emptiness approach – of realizing that fear arises from mind alone as Shantideva says in the Guide to the Bodhisattva's Way of Life. This is not a denial but a recognition of the impermanence of all states. Then the resolution is let the fear go away on its own. Shantideva says that fear will go away on its own if we can bear it impartially. 
There are a few ways to bear it impartially. One is a philosophical approach. Shantideva says that fear comes from desire and self-clinging from not caring for others. Is this true? This would be a time to explore those questions. 
And another approach is compassion and empathy – through which we can know we are not alone. We are experiencing frightful times together; it is therefore an opportunity to practice altruism and compassion. 
We can connect with others' fear as a practice of altruism, which Shantideva says is the path to fearlessness. It is possible, in a state of fear, to connect with the fearful states that others have around us through contemplation or through conversation. We may even be able to be soothing, kind, compassionate, connected presence. We can attune to how others are doing; we can ask and listen and find out again that we are not alone in our fears and anxieties. By connecting we can learn to soothe our own minds and position ourselves to care for others. 
This is so helpful when we are blocked in our self-soothing, by connecting and soothing others, we are unlocking the power of co-regulation, this also helps us to soothe ourselves! It helps us to soften towards our own experience, and therefore get free of that hardness and clinging that makes fear harder to bear.
Compassionate connections have such an important role to play in times of fear. To connect with others' fears offers us a way to be with fear that is open hearted and authentic, yet not helpless. 
Here are some tips for being empathetic when our loved ones express fear this pandemic holiday season, a little reminder from the Empathy Training. 
1. Some cheerful self-discipline is where to begin. Resist the urge to fix them or give them advice first. Empathy first. Advice last (and only when asked or organically emerging). Resist the urge to cheer them up first, it can come off as minimizing. 
2. Let other people talk. Listen to other people's feelings and ask questions about whatever they say. Make room for them to express themselves. Contemplate what their experience is like for them. Focus on understanding. Give it time and space. Just breathe and be there quietly or ask open ended questions.
3. Affirm that their feelings are understandable, normal and make sense. If it doesn't make sense to you, keep asking questions until it does.
4. Offer physical affection if appropriate. If you are socially distanced, you can still take deep breaths and be an embodied presence.
5. Affirm your support by asking if you can do anything to help, or if you see things you can do to help, do them! Or if you can't do anything – accept that – we can't always help or fix things or do things. But there is wonderful, healing intimacy to be had in just sharing our feelings together.
6. Does none of this work or go well? Thats okay. It's normal and understandable to have mis-attunements in relationships. We are not always going to gel or align or harmonize, that's okay. Better luck next time. You can at least do some tonglen and connect your altruistic intent with them in a whole-hearted way through that meditation.
7. If you have overwhelming emotions happening and don't have the bandwidth to care for others, then you might find it helpful to have professional support, a wonderful way to build up your spiritual resources. This link has a list of therapists that you can search. https://sensorimotorpsychotherapy.org/
Wishing you much care and compassion in the holiday season,

---
LAST MINUTE HOLIDAY GIFTS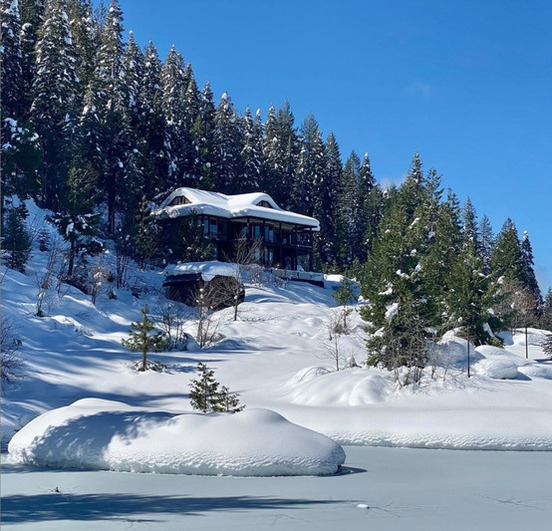 Make a Dedicated Donation in Honor of a Loved One
Donate to Dakini Mountain in honor of a loved one this holiday season. Just check the box that says, "Dedicate this donation." There will be an opportunity to send a custom e-card at the end. Help secure the future of Dakini Mountain and, by doing so, you help so many others find a place of refuge, healing, and support.
---
THANKGAS FOR SALE
The Perfect Christmas Gift!
Benefit Dakini Mountain
Benefit Your Meditation Practice
Benefit the Thangka Painters in Nepal
Several beautiful Thangkas and silk brocades were hand selected and brought to us by our good friend James Aplington (aka Thankga Jim) and the Lotus Gallery in Nepal.  As a way to help develop Dakini Mountain, they will donate half of the profit of these rare Thangkas to the development of Dakini Mountain.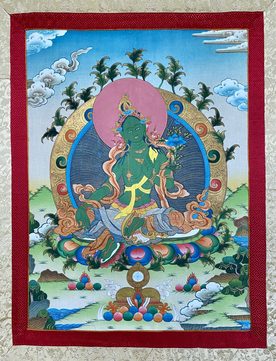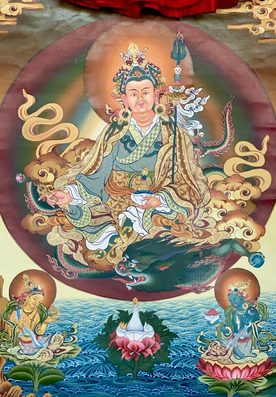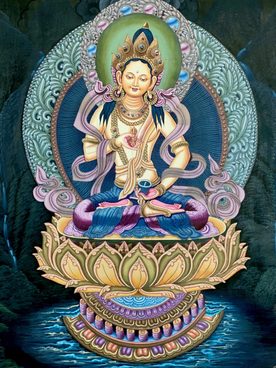 To request one of these Thangkas or for more information, please email Info@BuddhistStudiesInstitute.org.
---
NGONDRO TRAINING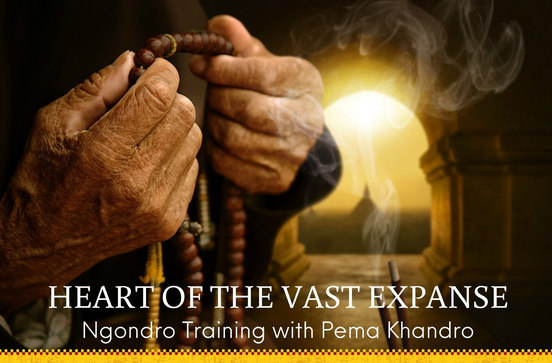 2022 is the year you will finally finish Ngondro!
Begins January 24th, 2022
Self Paced Classes
Live Webinars
Weekly Practice Group
Ngondro is a series of Vajrayana meditation practices for cleansing, training and empowering the body-mind. Also known as the 'tantric preliminaries,' ngondro literally means 'before going,' referring to the training one needs to be on the path of liberation.
Ngondro also serves as the foundation for the highest practices of Tibetan Buddhism, it is the pre-requisite to Tsa-lung and Dzogchen practices. Ngondro represents the cognitive, physical, emotional and philosophical components which are keys to the practice of liberation.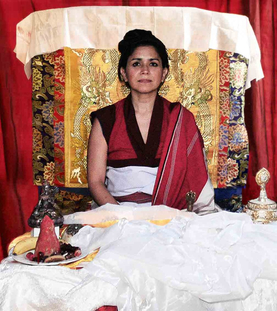 Join the Ngondro Training at the first Live Webinar Class with Pema Khandro on January 24th 2022. Then get all your questions answered in the quarterly live classes with Pema Khandro.
Self Paced Classes and Webinars
with Pema Khandro
Ngondro self-paced classes and live webinars will be led by Lama Pema Khandro, scholar and teacher of Tibetan Buddhism. Khandro-la's teachings emphasize Buddhist philosophy and practice from a trauma-informed, feminist perspective that engages tradition with the great questions of our time. Classes with Pema Khandro will be given by self-paced videos and live meetings once a quarter, with practice sessions led in between by Tsalgyur.
New for 2022: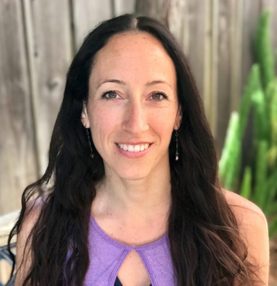 Monday Nights
Ngondro Practice
Led by Tsalgyur
Ngondro students can enjoy support to accomplish the accumulations with a weekly online practice group. It is optional to join with your ngondro community every Monday night in Ngondro practice led by Tsalgyur. 
Also foster community through signing up for accountability partner to support each other through the journey. 
About Tsal'gyur Dorje Tsalgyur has been studying with Pema Khandro  since 2005. She is the Membership Co-ordinator and Registrar for the Buddhist Studies Institute, and has been on the leadership team for Ngakpa International since 2012. Tsal'gyur is a certified Yoga Instructor, Meditation Teacher, and Teaching Assistant in the school. Having danced professionally for 10 years, she now teaches ballet, yoga, and meditation in group classes and private lessons.
---
UPCOMING EVENTS & OTHER NEWS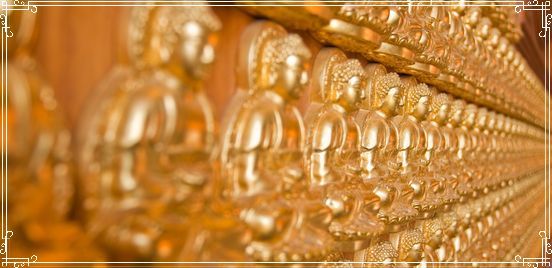 Daily & Weekly Programs
December
January – Next Ngondro Training Cycle Begins in January!!!
March – Next MIT begins in March!
Mar 26, 2022, Meditation Instructor Training Begins, Details TBA
As more details roll out for our Upcoming Events, please visit the Event List Here.
---
SELF-PACED COURSES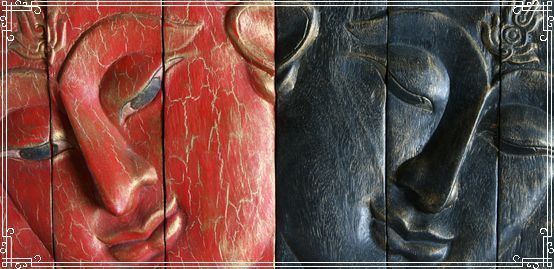 Open Teaching – No Prerequisites
The Five Buddhist Precepts are a discipline of freedom, honor, openness and precision that cover the potent themes of life from the uncommon, extraordinary perspective of non-duality.
Topics covered in this course include
Buddhist theories about vegetarian lifestyle vs. meat-eating, 

Buddhist perspectives on alcohol and drug use, 

Conscious use of sexual energy, Buddhist philosophy about desire

Handling resources, money and spirituality

Honesty, and the speech that takes us beyond confusion.
---
PEMA KHANDRO ON LION'S ROAR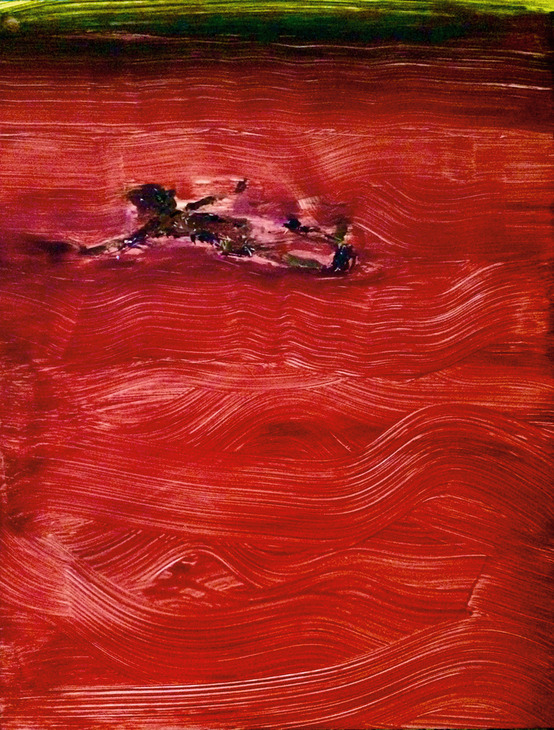 By Pema Khandro Rinpoche | December 14th, 2021
Sometimes, says Pema Khandro, there's no way out. It's at those times that we can discover the depth and resilience of the mind.