VAJRA SANGHA RETREAT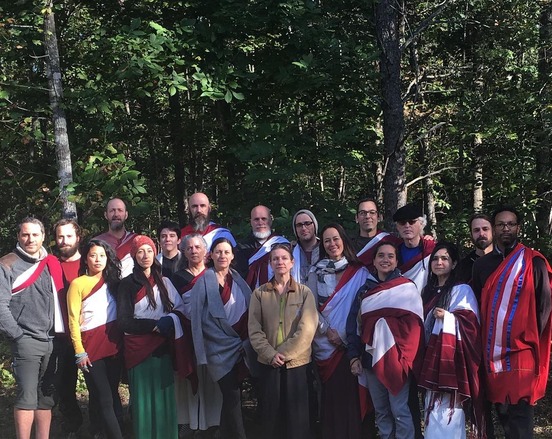 Saturday, October 16th, 2021
9am PT – 6:30pm PT
The Annual Vajra Sangha retreat is an opportunity for practice, study and community celebration for the long-term students of Pema Khandro who have been enrolled in Vajra Sangha membership. The retreat includes dharma teachings, Vajrayana and Dzogchen practices, dharma conversations, community workshops and discussion groups and more. This year the retreat takes place online due to the pandemic and includes a dynamic interactive format. This includes practice led by Pema Khandro, teaching with Pema Khandro as well as sangha led workshops, discussion groups, dharma conversation and the celebration and talent show.
Vajra Sangha are the long-term personal students of Pema Khandro who are eligible for private teachings and group meetings. The Vajra Sangha functions in a warm, closely connected community, based on long-term friendships, mutual respect, and appreciation. It is an association of serious practitioners who do in-depth study and service, who are also able to be light-hearted together and celebrate life. It is a community of leaders rather than a community of followers since advanced Buddhist study requires a willingness to take responsibility for one's life and be willing to care for our world. Vajra Sangha Retreats are open to Vajra Sangha Members only. Members are accepted through an extensive application process in order to keep the group limited to serious students of Pema Khandro who are eligible to participate as Vajra Sangha.
---
MEDITATION INSTRUCTOR TRAINING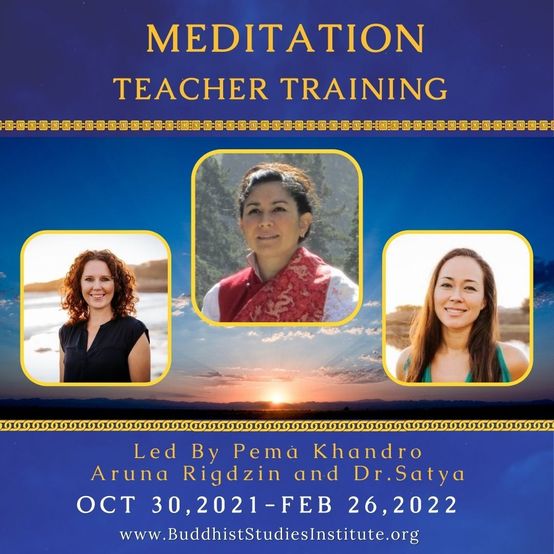 Meditation Instructor Training
With Pema Khandro, Aruna Rig'dzen, & Dr. Satya
150 Hour Certification Training
Registration Is Now Open
Oct 30th 2021 – Feb 26th 2022
About Meditation Instructor Training:
Robust, 150 hours of In-Depth Training
Self-Paced Curriculum & Live Classes
Teaching Practicum & Weekly Mentoring
Traditional Meditation + Buddhist Philosophy + Buddhist Ethics
Completely Traditional + Completely Current
For Teachers Facing A Diverse Tumultuous World
The Meditation Instructor Training supplies the fundamental knowledge and experience necessary to lead meditation classes and one-day meditation intensives.
People all over the world have turned to Buddhist meditation as a source of wisdom. Meditation offers a powerful method to access a sense of spaciousness, peace and authentic presence.
The practical benefits of meditation are well documented. Research shows it improves mood, reduces stress (Brown & Warren 2003), it improves memory, visuospatial reasoning, sustained attention and executive brain function (Zeidan et al. 2010). It reduces sub-clinical depression and anxiety (Schreiner and Malcolm 2012).
From a Buddhist point of view, when we know how to meditate, we learn how to work with mind and emotions. We have a practice for unraveling conditioned scripts and unconscious habits. Meditation is a pathway to discovering human goodness by making peace with our mind. Ultimately it is a method for getting free from dissatisfaction, resolving confusion and waking up to see reality more clearly.
---
UPCOMING EVENTS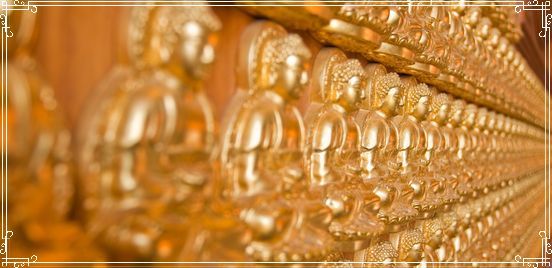 Daily & Weekly Programs
October
As more details roll out for our Upcoming Events, please visit the Event List Here.