The 21 Taras
Teaching and Practice with Drupon Rinchen Dorjee Rinpoche
December 16th, 6pm Pacific Time
Timezone Converter
Tara is considered to be the mother of all Buddhas. Prayers to her counteract illness and obstacles. There are numerous prayers, praises and meditations upon Tara, one of the most precious is that of the 21 Taras. The 21 Taras meditation is a poetic supplication of the female bodhisattva Tara in her many forms. It is practiced in all the lineages of Tibetan Buddhism as a prayer for protection from fears, calamities, and harm. It celebrates the manifold powers of the divine feminine as nurturing, magnetizing and fierce in her many forms as mother, teacher and tamer.
The beautiful practices of Tara were revealed as treasures and commented on by great masters of Tibetan Buddhism including an oral commentary tradition of Rongzompa, Taranatha, Jigme Lingpa and Jamyang Khyentse Wangpo. In this program, Drupon Rinchen Dorjee Rinpoche will give the oral transmission (lung) which is the initiation to practice the meditation known as the Praises to the 21 Taras. He will also give an explanation of the practice. Following this, chanting of this profoundly inspiring practice in English will be led by sangha members.
This program is offered as part of our seventh annual year-end celebration of Tara on the birthday of Lama Pema Khandro Rinpoche. Every year on Pema Khandro's birthday, the community celebrates with a practice of Tara led by guest Lamas.
All the proceeds from this event will go to support the Dakini Mountain Emergency Fund. Pema Khandro's birthday wish is for donations to go to Dakini Mountain Emergency Fund  Due to the temporary closure of Dakini Mountain due to the pandemic, this year's year-end fundraiser is more important than ever!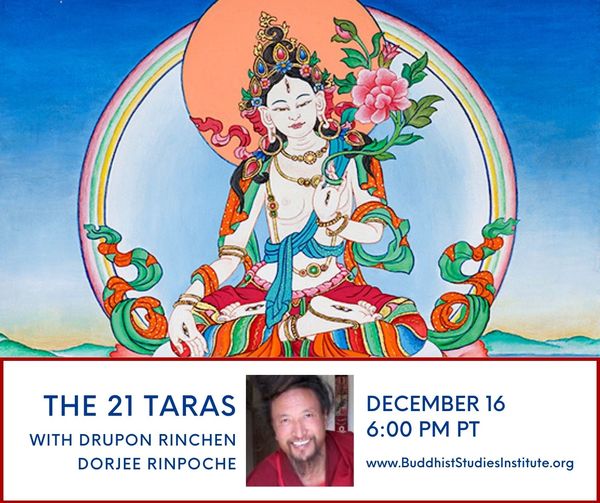 ---
2020 Fall Calendar
ONLINE OPEN TEACHINGS
*All times are listed in Pacific Time UTC-8 Timezone Converter
Now – Feb 12th Tibetan New Year (Losar)
100 Days of Practice – Meditation Marathon
Free, Short, Daily.
Starts December 10th, 8am
A Course in Valid Cognition with Geshe Sonam
Winter Pramana Study
December 16th, 6pm
The 21 Taras – Teachings and Practice with Drupon Rinpoche
Pema Khandro's Birthday Celebration and Fundraiser
---
Members-Only Classes
Learn More about Membership
1st & 2nd Wednesdays – Vajrayana Training
3rd & 4th Wednesdays – Ngakpa Training
Every Monday – Meditation Mondays
Group Meditation with Janak Kimmel & Guest Teachers
Dec 21st, 6-7pm – Tara Day
White Tara Meditation is a Buddhist prayer offered in times of calamities, natural disasters, wars, and major obstacles in order to bring peace and healing to the community and environment. Learn the mantra, mudras and visualization practice of White Tara, and also practice the 21 Taras. Led by Dr. Satya.
---
Dakini Mountain Emergency Fund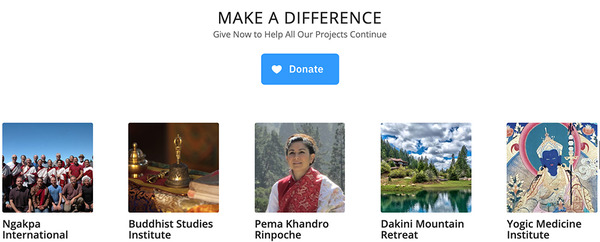 BUDDHIST YOGIS INFO  ♦  DONATE  ♦  VISIT OUR WEBSITES
Copyright Ⓒ 2019
Ngakpa International • PO Box 2396 • Nevada City, CA • USA