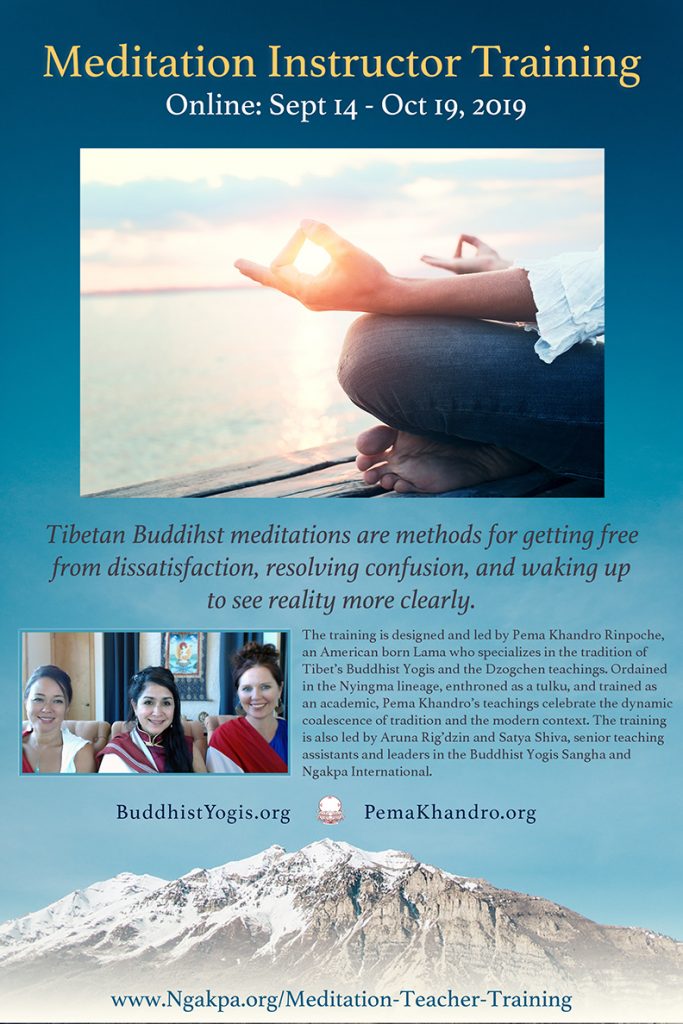 Meditation Instructor Training – Online
Sept 14 – Oct 19, 2019
Online
The Meditation Instructor Training supplies the fundamental knowledge and experience necessary to lead meditation classes and one-day meditation intensives.
Certification Course Format
21 Video Lessons & 21 Video Practice Sessions
Students receive 2 new videos each day covering the essential points of Meditation Practice and Meditation Instruction.
Weekly Exams
Students will complete a weekly online exam reviewing the major principles of the video lessons they have received. There is a 48 hour period to finish each exam.
Daily Journal
Students will be required to submit 21 journal entries documenting 21 practice sessions & video lessons.
Weekly Workshop – Live Online
Students will meet with the instructors once a week for an online workshop, discussion, and evaluation. During the workshops, every student will lead a meditation class and receive feedback from the instructors. *International students may inquire about other options if time zones do not permit live attendance.
Meditation Instructor Manual
Students will receive a digital download of the 47-page manual written by Pema Khandro Rinpoche. 
Teaching Practicum in an Underserved Community
Each student will lead three hours of meditation classes in a local community. Students will report on teaching experiences, and will discuss these experiences in the group workshops. 
Final Transmission & Graduation – Live Online
Students who complete all aspects of the training will be invited to the final transmission class and graduation with Pema Khandro Rinpoche.
► Click Here For Full Curriculum and Schedule

About the Teachers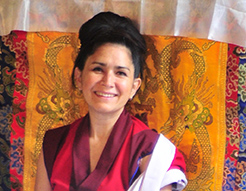 This course and its curriculum have been designed by Pema Khandro Rinpoche, Tibetan Buddhist teacher, and scholar. She is an American born Lama who specializes in the tradition of Tibet's Buddhist Yogis and the Dzogchen teachings. Ordained in the Nyingma lineage, enthroned as a tulku, and trained as an academic, Pema Khandro's teachings celebrate the dynamic coalescence of tradition and the modern context.  Pema Khandro is the founder of Ngakpa International, Dakini Mountain Retreat Center, the Yogic Medicine Institute, and three residential centers. For more information visit www.PemaKhandro.org
Pema Khandro first taught the course in 2001. She has developed an online version of the course in order to give support and deep training to friends and students around the world, who may not be able to travel to attend in person.
The c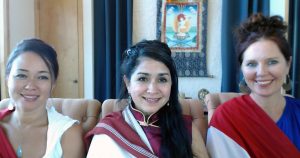 ourse will also be led by two of her senior students, Aruna Rig'dzin and Satya Shiva. Aruna and Satya have studied closely with Pema Khandro since 2001. They have attended this training five times, attended all of Pema Khandro Rinpoche's courses and they trained intensively under her supervision. 
About the Training
The training includes a study of the postures for meditation, breathing techniques, the five key meditation techniques from Zhine, (also known "Calm Abiding), common obstacles to meditation, remedies for obstacles of meditation and more. We will also review the most important Buddhist teachings to support meditation practice – looking to the wealth of Buddhist philosophy for new perspectives on what is mind, how to work with thoughts and emotions, what is the body-mind connection and how body and mind can be harnessed for awakening.
BUDDHIST YOGIS INFO  ♦  DONATE  ♦  VISIT OUR WEBSITES
Copyright Ⓒ 2019
Ngakpa International • PO Box 2396 • Nevada City, CA • USA