Winter Meditation Retreat in Santa Cruz, California – March 4th 2017 – with Pema Khandro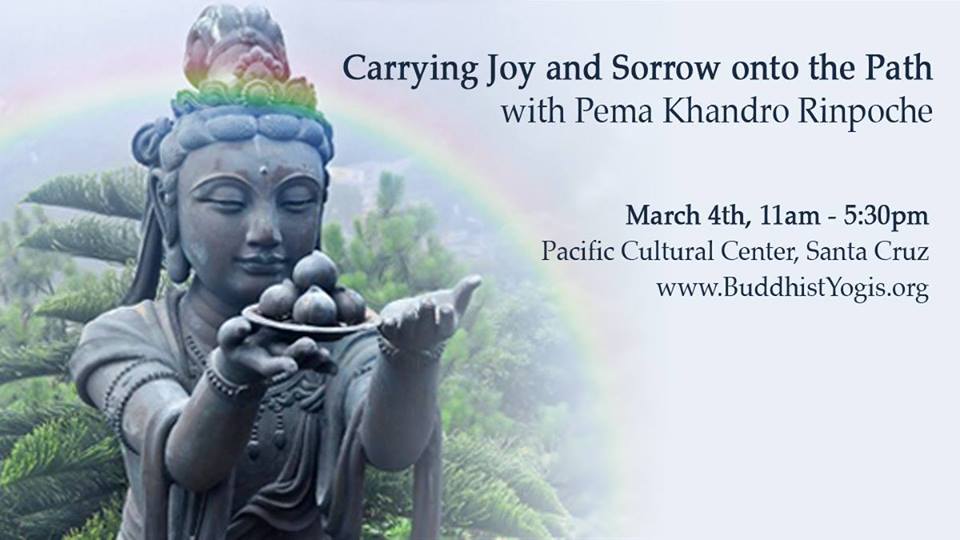 "Joy and sorrow, pleasure and pain, these experiences are facts of our lives. It is not a matter of whether we will experience joy and sorrow, it is a matter of how we will meet these experiences. Because we usually respond to strong emotions with habitual reactions, we miss the opportunity for further presence. Buddhist meditation offers us a way to meet mind with simplicity, straightforwardness and therefore with a natural resilience."
– Pema Khandro
Meditation is widely respected for its powers to heal the body and mind, reduce stress, encourage neuroplasticity of the brain, increase speed of recovery during illness, impart peace of mind, increase empathy, increase powers of concentration and so much more. In Buddhism, meditation is used as a practice to awaken a capacity to see reality more clearly, to see things as they are, while remaining present and open-hearted. This one day retreat offers a day of meditation practice – for all these purposes. In a time when quite, simple sanity is most needed, a meditation retreat offers a space to restore a sense of clarity, freshness and resilience.
This retreat focuses on meditation and prayers drawn from one of the most important figures in Buddhist history, the female Buddha, Yeshe Tsogyal. Yeshe Tsogyal is an inspiring symbol of enlightened wisdom demonstrated in real life circumstances. The legend of this female Buddha of Tibet and founding figure of the Nyingma lineage is an example of authentic discipleship, enlightened romance, facing violence, dealing with spiritual politics and transforming obstacles, demonstrating the entire path from beginning to ultimate fruit. A story of overcoming incredible obstacles, she became the student and partner of Padmasambhava, the Indian Yogi who is credited with converting Tibet to Buddhism.
This weekend we learn Yeshe Tsogyal's mantra and meditation, contemplate her teaching on transforming misfortune into the path and practice the prayer for Carrying Joy and Sorrow on the Path from the Pegyal treasure teaching.
Some retreats are practice oriented, some are study oriented, some are community or discussion oriented.
*This retreat is practice oriented.