Dear Friends and Members,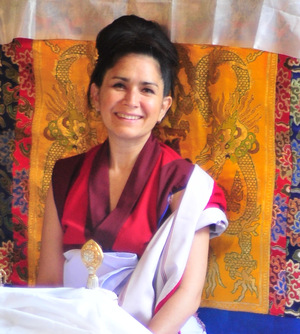 I never knew that I could fall in love with a land. But it happened to me twice. Once was in Eastern Tibet and the next time was at Dakini Mountain, the two places share this sense of stunning expanse and beauty. I have had a long time dream of establishing a pilgrimage site for Vajrayogini in the West and when we found our land in the Tahoe National Forest, I knew that the era of Dakini Mountain was dawning upon us.
Vajrayogini is an important symbol. Visually what is stunning about her is that she is a female buddha in warrior stance. Her image speaks volumes about Buddhist tantra – the embrace of embodiment, the empowerment of the sacred feminine, the potential to awaken some free and crisp aspect of mind. Vajrayogini symbolizes the compassion which is capable of being fierce or gentle, passionate or peaceful, according to what is needed to relieve suffering.
When we meditate on the buddhas such as Vajrayogini, it is not because we are worshipping an external god or deity. Quite the contrary, what we are venerating is the beauty and power of the nature of mind. There exists some aspect in mind which is Vajrayogini – free, powerful, passionate but devoid of self-grasping. It is vividly engaging experience, yet without self-deception. Awakening this aspect of mind is why we do Vajrayogini meditation. Vajrayogini is an emblem of inner freedom and the capacity of all beings, even those deemed unlikely or unworthy, to realize and embody that freedom.
This weekend we are consecrating our Vajrayogini shrine at Dakini Mountain and along with it we will have an online weekend meditation retreat and Vajrayogini and empowerment. I invite you to join us for this auspicious occasion. Practicing meditation and visualizations together at this time is an important way for us to decompress, recalibrate and tune into our quiescence. We will have meditation classes together as well as a community tea time to keep in touch and reconnect. And of course there will be the lung for the three Dakini Chod (the Rinchen Trengwa) and the empowerment for Vajrayogini.
If you can, please join us for the whole weekend and if you are unable to attend all weekend, then we welcome you to participate on Sunday, when I will be hosting the very accomplished Venerable Drupon Rinchen Dorjee Rinpoche as our guest teacher.
If you are not able to join in person, but you would like to sponsor the mandala offering for yourself or for your loved one you can click here to make a donation: Mandala Offering for Loved Ones
For mandala offering sponsors – when we make the mandala offering prayers will be read out and the enormous positive merit generated by our practices will be dedicated to yourself and your loved ones.
Also you may wish to choose to donate to our Dakini Mountain Emergency Fund here: Dakini Mountain Emergency Fund
We have been affected by the pandemic which has meant the missing of our retreat season. Every donation will help us to continue Ngakpa International's humanitarian activities and to continue to sustain Dakini Mountain through these perilous times. Click Here to Donate Now
Finally, I want to finish with some notes of encouragement. Times are so difficult right now, so self care, doing retreat, engaging in daily meditation and exercise are essential. There are other options besides gaslighting and denial. But self-regulation is a key to being able to have these other choices. We do not have to live in fear, we can instead spread empathy, compassion and self-compassion. We must be brave and choose love.
Yours always,


---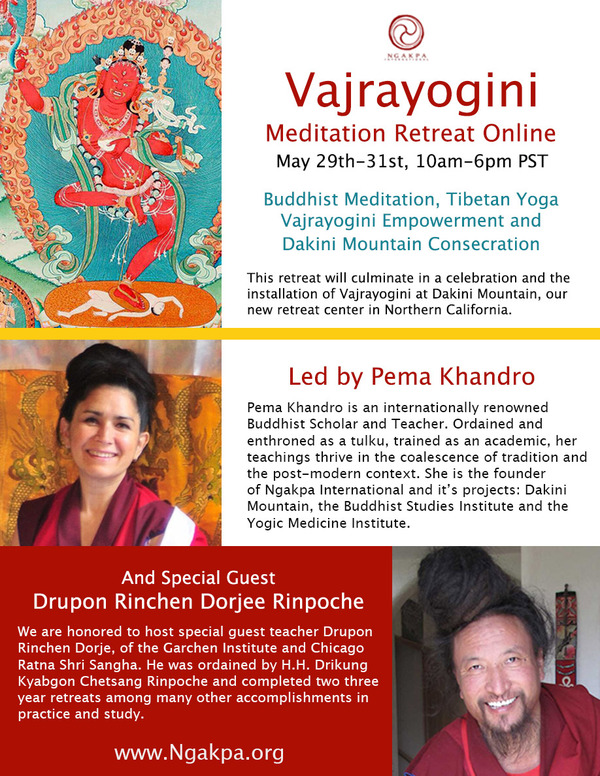 From May 29th-31st, join us in an online meditation retreat led by Pema Khandro. We will also host special guest teacher Drupon Rinchen Dorjee Rinpoche who will bestow the Vajrayogini empowerment. The weekend will focus on a Buddhist meditation retreat in your own home, through an online retreat format.
---
Chod is a meditation method through meeting fear and neurosis with compassion and skill.
This is a Tibetan meditation which is a potent, dynamic practice for cutting through fear and facing death. It is a practice of healing through ultimate compassion. The practice is the Dzogchen Chod, known as Khandro Geykyang, the Laugher of the Dakinis, the concise version. Rinpoche will lead the practice and discuss its meaning. This has been a monthly practice in Virginia for the last two years on Dakini Day, but in-person Chod practices are cancelled and Pema Khandro Rinpoche will now be offering Chod practice online for the first time, in order to support Vajrayana practitioners during the worldwide pandemic.
Donations Welcome ~ No one turned away for lack of funds
► Learn More
---
UPCOMING TEACHINGS ONLINE

May
May 29-31  –  Vajrayogini Retreat & Dakini Mountain Consecration

Dakini Day Chod
June 16th – Fear as a Path to Liberation
July 15th – The Five Wisdom Dakinis
---
BUDDHIST YOGIS INFO  ♦  DONATE  ♦  VISIT OUR WEBSITES
Copyright Ⓒ 2019
Ngakpa International • PO Box 2396 • Nevada City, CA • USA