Dear Friends,
Our upcoming program goes into the complex topic of Buddhism and Sexuality. We will talk about non-celibacy, consorts, sexual abuse and sexual orientation. These are sensitive subjects – but also important areas for investigating buddhist philosophy and ethics.
I hope that this program and the recent conversations we had about these issues in Vajrayana Training classes last month will help to promote a culture of awareness, learning and prevention from harm through education.
It may be surprising why I raise these issues, afterall, I love Buddhism and for me Buddhist practice has been profoundly healing, it is a primary means through which I recover from the weariness of misogyny. It has offered me the methods through which I find peace again and again on a daily basis, and the view through which I make sense of my life. Its resources are profound and many of the positive qualities of my life are due to Buddhist practice and study.
Yet, I also advocate that it is important not to take a naive approach to our study of Buddhism, if we do, I think we will miss its greatest gifts. One of the things I treasure the most about studying Buddhism is learning from the rich history of debates, struggles, contested issues, challenges, victories and failures that have taken place over the last 2500 years of the Buddhist tradition across cultures and contexts.
I include the broader perspectives of history, views of different traditions and contested issues in classes I lead for a reason. Buddhism is a part of a bigger world and shares the same issues as the world, openly engaging with that will only enrich and empower us in our journey of genuine wakefulness.
I believe that leaders in Buddhism, like every religion, every sector of society, every neighborhood and every family must address issues about misogyny and sexual abuse and that its our duty to have difficult conversations amongst ourselves and our communities so we can open up new possibilities for undermining abuse. I don't have all the answers to how we can best do this and I am grateful for my scholarly training to prepare me for these conversations -but even with that background, it's very humbling to attempt to address the complex issues at hand.
But I believe that sometimes even though we don't have answers, those can be periods of greater awakening – through our willingness to sit in the questions and open up conversations.
These three recent classes in Vajrayana training last month were too short a time to discuss such an important subject and we barely scratched the surface. Talking about these issues is difficult and complicated, more so than such a short time allows. The bottom lines for me are the Buddhism commitment to relieving suffering and preventing harm, and the commitment to waking up, developing further and further awareness. Since there is much more to examine on these topics, I will be doing our final mini-series of the year on the topic of ethics in Buddhism and Sexuality, starting next monday. This is announced below, I hope you will join us for each night, since they will each cover a different topic and perspective.
In our adjustments to the schedule after the California fire situation we were late out of the gate in terms of sending our announcements out so please do share the announcements on social media when you see them to help us get the word out.
Dakini Mountain continues to be safe from the fires and has blue skies. We are soon fixing our water and we did a fire clearance around the lodge thanks to amazing efforts by Aruna.
Finally, we have only been able to continue to offer programs through the pandemic because of donations and pledges and donations to the Dakini Mountain Emergency fund. Thank you every person who has donated Please consider making a donation today to help keep our activities going! Here is the link, we need all kinds of support big and small.
Please Donate Now.
May all beings be freed from suffering.
In dharma,

---
Buddhism & Sexuality
with Pema Khandro and Esteemed Guests
The series will feature four evenings of conversations between Pema Khandro and Buddhist scholars and teachers.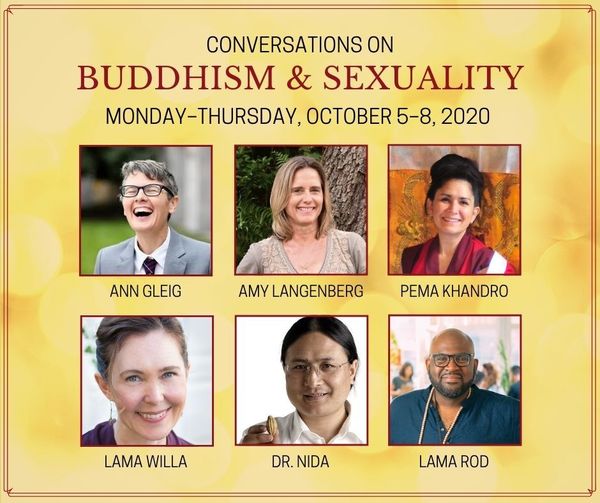 The subject of Buddhism and Sexuality is a complex issue approached in a variety of ways throughout history. Most recently, in the wake of the #metoo movement, news about sexual abuse and sexual misconduct in Buddhism has brought forward important questions. This series provides a platform for contemplating these questions and the greater context of Buddhist ethics. The goal is to raise awareness, promote education and highlight resources. These programs are by donation.

---
Monday, Oct 5th
6pm – 7:15pm 
PDT (Timezone Converter)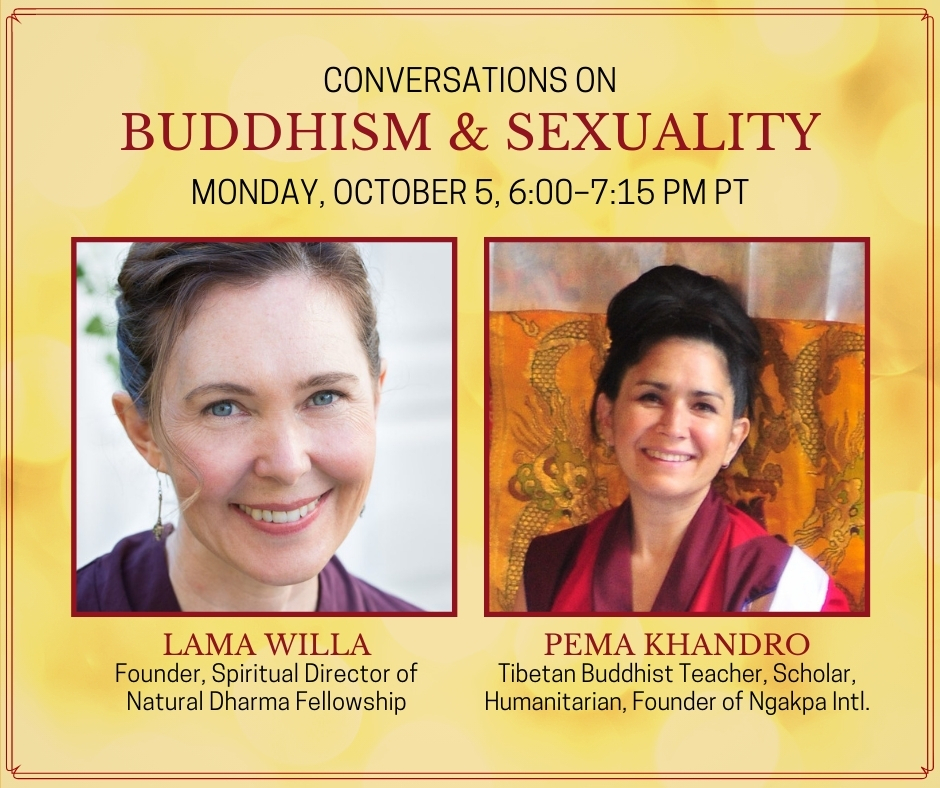 Willa B. Miller, PhD is the Founder and Spiritual Director of Natural Dharma Fellowship in Boston, MA and its retreat center Wonderwell Mountain Refuge in Springfield, NH. She was authorized as a dharma teacher and lineage holder in the Kagyu lineage of Tibetan Buddhism after twelve years of monastic training and two consecutive three-year retreats.
---
Tuesday, October 6th
6pm – 7:15pm PDT (Timezone Converter)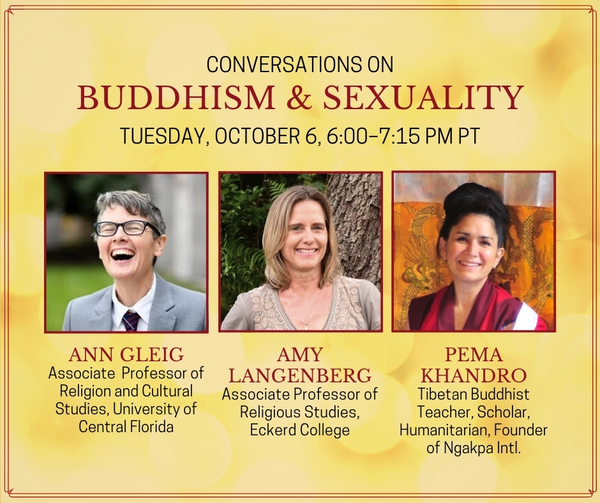 Ann Gleig is accociate professor of religious studies at the University of Central Florida. She is the co-editor of Homegrown Gurus: From Hinduism in America to American Hinduism and has published widely on contemporary Buddhism. She is the author of "American Dharma: Buddhism Beyond Modernity," from Yale University Press. Her research interests include Asian religions, Asian religions in America, Religion and Psychoanalysis, Religion, Gender, and Sexuality.
Amy Langenberg is a specialist in classical South Asian Buddhism with a focus on monasticism, gender, sexuality, and the body. She also conducts ethnographic research on contemporary Buddhist feminism, contemporary female Buddhist monasticism, and, more recently, sexual abuse in American Buddhism. She is currently interested in how notions of agency, autonomy, freedom, and consent function in contemporary religious communities, and the role of affect, the body, and emotion in religious life.
---
Wednesday, October 7th
11am PDT  /  2pm EDT  /  8pm Rome, Italy (Timezone Converter)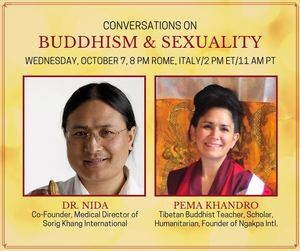 Dr. Nida Chenagtsang is a traditional Tibetan physician and lineage holder of the Yuthok Nyingthig, the unique Vajrayana Buddhist spiritual healing tradition of Tibetan Medicine. Dr. Nida is the Medical Director of Sorig Khang Intl and the Sorig Institute: School of Traditional Tibetan Medicine; Co-Founder of the International Ngakmang Institute, established to preserve and maintain the Rebkong ngakpa non-monastic yogi/ini culture within modern Tibetan society; and Co-Founder of Pure Land Farms: Center for Tibetan Medicine, Meditation and Rejuvenation in Los Angeles, CA.
---
Thursday, October 8th
6pm – 7:15pm PDT (Timezone Converter)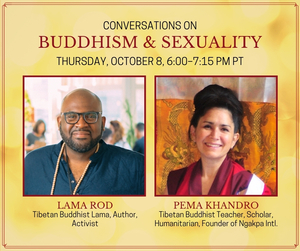 Lama Rod Owens is a Buddhist minister, author, activist, yoga instructor and authorized Lama in the Kagyu School of Tibetan Buddhism. He holds a Master of Divinity degree in Buddhist Studies from Harvard Divinity School and is a co-author of Radical Dharma: Talking Race, Love and Liberation. Owens is the co-founder of Bhumisparsha, a Buddhist tantric practice and study community. Has been published in Buddhadharma, Lion's Roar, Tricycle and The Harvard Divinity Bulletin, and offers talks, retreats and workshops in more than seven countries.
---
Meditation Instructor Training – Online
150 Hour Certification Training
Oct 31st – Feb 2021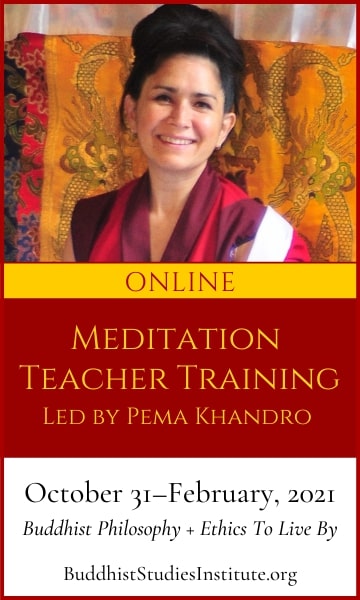 ---
2020 Fall Calendar
FALL QUARTER – ONLINE OPEN TEACHINGS
*All times are listed in Pacific Time UTC-7 (Timezone Converter)
Oct 5th – 8th
Conversations on Buddhism & Sexuality
Oct 12, 11am – 1pm
Dakini Day Chod: Living in the Charnel Grounds
Oct 17th, 10am – 6pm
Oct 28, 6 – 6:30pm
Oct 31 – Feb, 2021
Meditation Instructor Training
December 16, 6pm
Pema Khandro Birthday Celebration & Fundraiser
---
FALL QUARTER – MEMBERS-ONLY CLASSES
*The Curriculum below is for Members Only. Learn More about Membership
1st & 2nd Wednesdays – Vajrayana Training
3rd & 4th Wednesdays – Ngakpa Training
Oct 19th, 5-6pm
BIPOC Meditation Group with Pema Khandro
Nov 23rd, 6-7pm
Tara Day
---
BUDDHIST YOGIS INFO  ♦  DONATE  ♦  VISIT OUR WEBSITES
Copyright Ⓒ 2019
Ngakpa International • PO Box 2396 • Nevada City, CA • USA