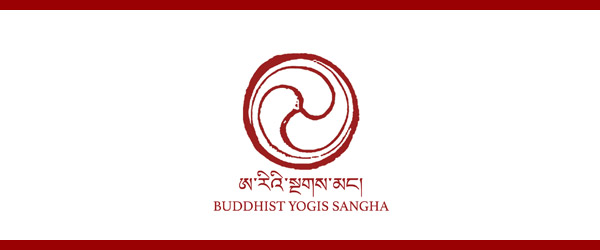 What is the "Dakini" in Dakini Mountain?
Pema Khandro discusses the 5 Dakini's as the Five Elements in Nature during the interview clip below. Click Here to watch the video. Today is Giving Tuesday – please Donate Now!

Dakini Mountain is our budding new Retreat Center in the Sierra Nevada Mountains of Northern California. We purchased Dakini Mountain this year in February of 2019 and we plan for a grand opening May 31st, 2020.
Will you come to Dakini Mountain this year? We hope so because Dakini Mountain is an experience of pristine beauty and serenity. Come experiene it for yourself! Dakini Mountain is a power spot of Vajrayogini, devoted to Gender Equality.
WHAT DOES THE NAME DAKINI MOUNTAIN MEAN?
Dakini is the principle of enlightened energy in the phenomenal world.
It is the beauty of the natural elements which evoke joy, clarity, dignity, fearlessness, and peace.  Dakini energy appears as the fundamental goodness of the five wisdoms underlying our own emotions. It also appears as the natural wisdom in our environment.
The Dakini is also the initiatory principle in Tibetan Buddhism.
It represents enlightenment being revealed in the least expected forms. As such, it is the ultimate affirmation of the buddha-nature in every person.
Dakini has other meanings as well.
The Dakini is associated with feminine enlightened wisdom. We are in the time when gender inclusivity is achieving unprecedented manifestations in Buddhism, with more women involved in every level of training and leadership. After many thousands of years of patriarchal cultures all over the world relegating women to secondary, subordinated status, a new era is dawning.
Dakini Mountain is devoted to expressing Buddhism in its highest potential, as an affirmation of the dignity of all beings. This is the Dakini principle at its heights – the affirmation of the intrinsic goodness of all beings is being 'hoisted as a flag, ' that awakens us all to our natural wisdom.
Fundraising for Phase 2 of building infrastructure at Dakini Mountain has begun.  Phase 2 includes building an additional structure to house guest teachers for events and building a small temple to house a new VajraYogini statue until the stupa is built. This Vajrayogini statue will be consecrated at Dakini Mountain during our Grand Opening May 31st, 2020, we hope you will join us. But first we must fundraise to get there!
Please offer your financial support for this worthy project! No donation is too small. We request small and large donations as well as repeat donations to make Dakini Mountain a dream come true!  Please go to GoFundMe, Dakini Mountain Fundraiser and make a difference to bring the Buddhist values of peace, harmony and compassion into this world.
Special Gift – Vajrayogini Print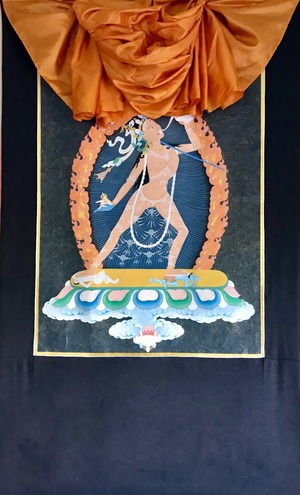 The unique Vajrayogini pictured here is currently residing at Dakini Mountain.
For gifts of $5000 and above, donors will receive a print replica of this rare and beautiful Vajrayogini painting.
Click Here to Donate Now
All of your donations are Tax Deductible
Ngakpa International is a 501 c (3) non-profit organization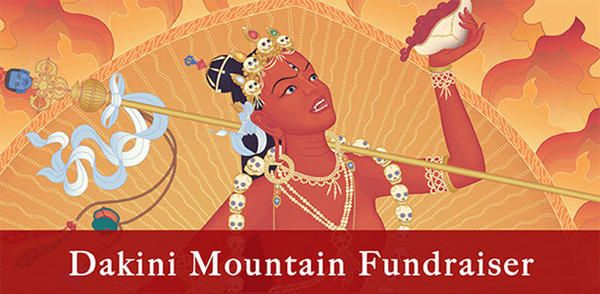 Shoreline, Washington
Sun Dec 15th, 10am – 1pm
Join us for a morning of restoration and rejuvenation. Offering a Bliss yoga class and guided meditation, followed by Golden Chai and brunch. One hundred percent of proceeds will be donated to the Buddhist Yogi's Dakini Mountain project. Creating an off-grid retreat center for the respite and refuge for anyone to discover the presence of natural peace.
$50 Donation. Please call or email to pre-register, due to limited space. Contact Kundini: kundini@buddhistyogis.org or 206-588-9275
Santa Cruz, California
Sat Dec 15th, 6-10pm
The Santa Cruz community of Buddhist Yogis invites you to a special fundraising event for its beautiful new retreat center, Dakini Mountain, located in the pristine, Tahoe National Forest.  The evening will include candlelight meditation, sharing an organic, vegetarian meal, as well as time for mingling with sangha and friends.  This night we will share the many important reasons we are collecting donations to support the flourishing of this important Buddhist retreat center dedicated to gender equality, sustainability, and Dharma practice.  Please join us, we look forward to seeing you there!
$35 Donation. Contact De'dzin to RSVP:  dedzin.drolma@gmail.com. All proceeds go directly to the Dakini Mountain fundraising project.
Dakini Mountain – Nevada City, California
December 22nd, 6-9pm
All friends and Members of Ngakpa International are cordially invited to a Soulstice Celebration and Charity Benefit for Dakini Mountain Retreat Center – an inspirational semi-formal evening with a Webcast of Pema Khandro Rinpoche, Live Music with the songstress Marya Stark, Buddhist Art Show and Thangka Sale brought to us from the Lotus Gallery in Nepal, Tapas, Libations, and Community Celebration. This event will be held at Dakini Mountain Retreat Center, Nevada City, CA.
$108 Donation – Click Here to Register Now.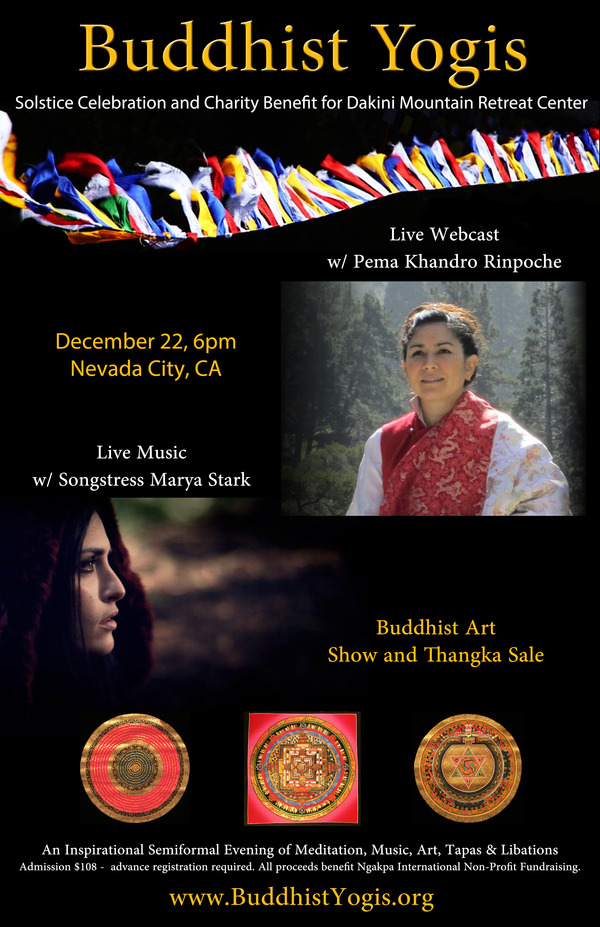 Free Online Class: Excellent Path to Enlightenment
4th Wednesdays of Each Month
A short, potent 30-45 minute study of Buddhist philosophy
Pema Khandro offers this class each month on the fourth Wednesday of the month. It is approximately half an hour with meditation and study of Excellent Path to Enlightenment, the guide to meditation by the great 14th century Tibetan master, Longchenpa.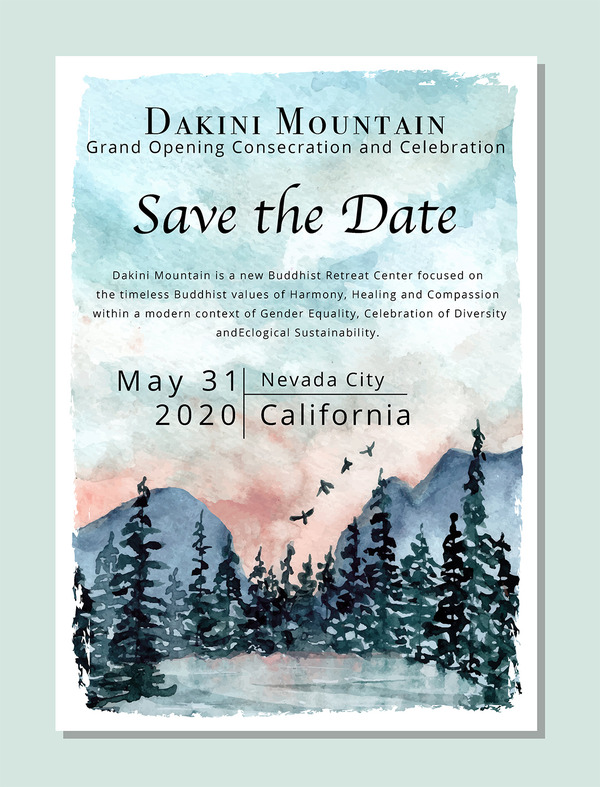 BUDDHIST YOGIS INFO  ♦  DONATE  ♦  VISIT OUR WEBSITES
Ngakpa.org
PemaKhandro.org
BuddhistYogis.org
DakiniMountain.org
YogicMedicineInstitute.org
Copyright Ⓒ 2019
Ngakpa International • PO Box 2396 • Nevada City, CA • USA