Watch or Listen In on the Conversation
Tonight – Pema Khandro and Charles Eisenstien

Charles Eisenstein is a public speaker and the author of:
The More Beautiful World our Hearts Know is Possible

Climate: A New Story

Sacred Economics

The Ascent of Humanity

The Yoga of Eating… 

and more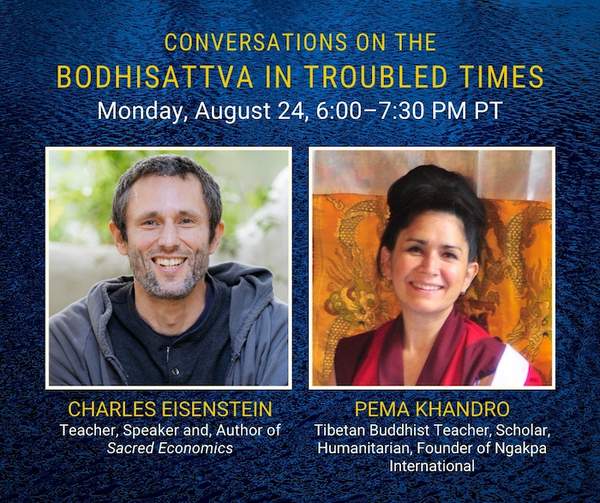 ---
Bodhisattva in Troubled Times
Conversations Aug 24-27  ~  Retreat Aug 29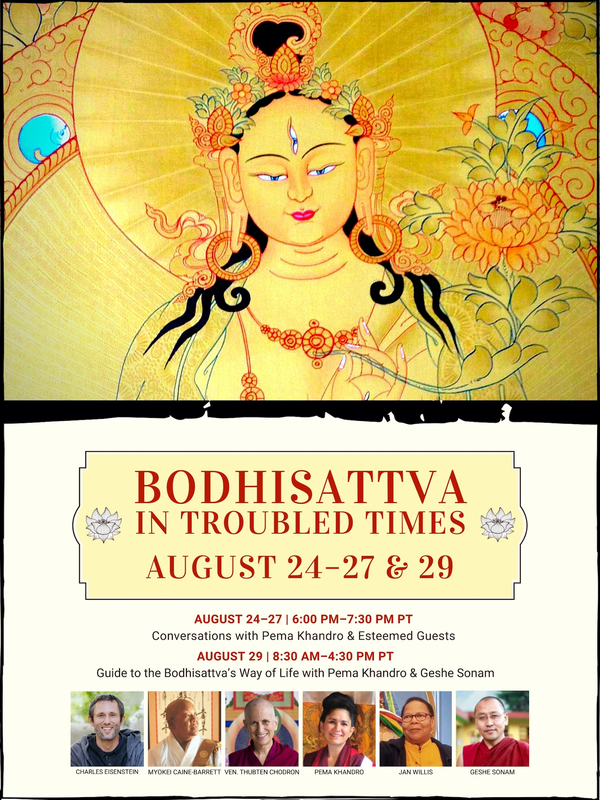 Pema Khandro and esteemed guests open up a conversation about how Buddhist values might unfold in the midst of challenge, chaos and intensity.

Monday, Aug 24
Charles Eisenstein is a teacher, speaker, and writer focusing on themes of civilization, consciousness, money, and human cultural evolution. He is the author of Sacred Economics.

Tuesday, Aug 25
Dr. Jan Willis is professor emerita of religion at Wesleyan University and is currently visiting professor at Agnes Scott College in Decatur, Georgia. She has studied Buddhism with Tibetan teachers for more than forty years and is the author of the memoir Dreaming Me: Black, Baptist, and Buddhist.

Wednesday, Aug 26
Venerable Thubten Chodron

is the founder and abbess of Sravasti Abbey in Newport, Washington, and the author of

Don't Believe Everything You Think

. She was ordained as a Buddhist nun in 1977 and received full bhikshuni ordination in Taiwan in 1986.

Thursday, Aug 27
Myokei Caine-Barrett

is the first woman of African-Japanese descent, and the only Western woman, to be ordained as a priest in the Nichiren Order. She is the resident priest and guiding teacher for the Myoken-ji Temple, home of the Nichiren Buddhist Sangha of Texas.

Saturday, Aug 29
Geshe Sonam

is an English language interpreter for the Dalai Lama. He holds the Geshe Lharampa degree, the highest possible degree for a Buddhist Scholar.
This is a week-long series about the practice of compassion and care in troubled times. In the midst of moral outrage and the imperative to change society, how do we proceed without magnifying aggression and hate? This series is dedicated to contemplating possibilities for social change and facing difficulties with an altruistic mindset.

LAST CHANCE
Rare Thangka Sale Ends September 2nd
~


Benefit Dakini Mountain




Benefit Your Meditation Practice




Benefit the Thangka Painters in Nepal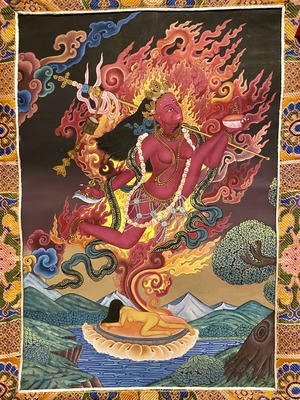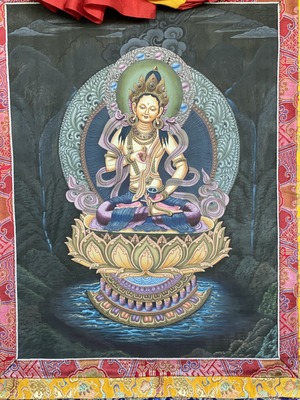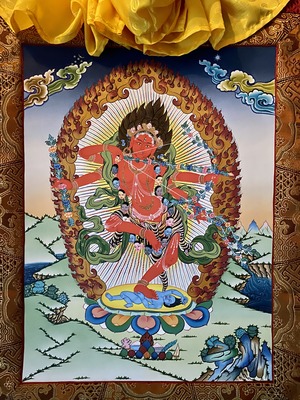 ​

BUDDHIST YOGIS INFO  ♦  DONATE  ♦  VISIT OUR WEBSITES
Copyright Ⓒ 2019
Ngakpa International • PO Box 2396 • Nevada City, CA • USA