Dear Community of Buddhist Yogis,
You are cordially invited to celebrate Dakini Mountain's birthday!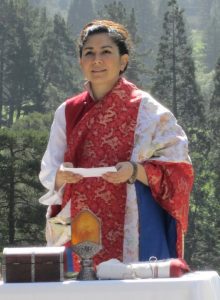 Pema Khandro Rinpoche will be leading Invoking the 100,000 Dakinis retreat from June 7th – 9th, which will include ritual land blessings, Buddhist teachings, meditation, yoga, organic vegetarian meals, communing with nature, community enjoyment and celebration!
Sunday 1-5pm – Dakini Mountain Celebration and Land Blessing
Land blessing & Laughter of the Dakini's Chod, open to all donors, members, and friends. Celebrate the 20th Anniversary of our organization and of Pema Khandro Rinpoche's teaching as well as the epic occasion of the launching of Dakini Mountain.
Invoking the 100,000 Dakinis is a practice to raise radical courage and vivid presence. It invites protection, support and wakefulness within the mandala of the five elemental wisdoms and the meditation of Vajrayogini…