Calling the 100,000 Dakinis Retreat with Pema Khandro
With Pema Khandro
October 29, 2022
Dakini wisdom is our own innate intrinsic wisdom, beyond concepts, beyond fear and beyond concepts. This wisdom also speaks to us through nature, as the sacred energy of the five elements.

This special one day retreat offered online and also in Southern California, and is the first group event since the closure for the pandemic in 2020.  It will offer the extraordinary opportunity to chant and study from Invoking the 100,000 Dakinis, an inspiring Tibetan Buddhist prayer from the Dakini's Heart Essence Cycle and the Jeweled Garland Chod (Rinchen Trengwa). Invoking the 100,000 Dakinis is a meditation practice to raise radical courage and vivid presence. It invites protection, support and wakefulness within the mandala of the five elemental wisdoms and the meditation of Vajrayogini. 
This retreat is led by Pema Khandro, scholar of Buddhist Studies, Lama and Tulku. Pema Khandro is a lama and lineage holder of the Nyingma and Kagyu traditions. She is also the founder of Ngakpa International and its three projects, Dakini Mountain, Buddhist Studies Institute and the Yogic Medicine Institute. 
This is the first in-person event with Pema Khandro since 2019, we are overjoyed to have the opportunity to gather together with Lama and dharma friends. 
LOCATION & TEXTS
The retreat address will be given upon registration. The course page will also be accessible prior to the retreat in order to download the texts and retreat resources.
COVID SAFETY
Masks and a negative Covid test may be required for in-person attendance. The practices will be held outdoors without masks, however, N95 masks are required whenever coming indoors. Enrollment is limited to the first sixty people to register. This event is subject to uncertainty, based on pandemic conditions or other unforeseen events it could be canceled. Please make your plans accordingly.
---
Tuition*
General: $180-210 (begins 9/29)
*Members can Apply Member Discount Codes at Checkout
Financial Aid Considerations Program costs are set at a minimum fee already, with financial aid built into all tuition rates. Because we are a non-profit organization, the costs of all activities and overhead of our organization must be covered by the participants of the courses or donations and all courses are offered at below cost. For those who are experiencing genuine financial hardship and wish to enroll in the program, Financial Aid applications are available. (Applications must be received in advance. There are two Financial Aid Scholarships available for this program.) Financial Aid Scholarships receive a 50% discount on tuition. 
Submit Financial Aid Scholarship Application Here
Leader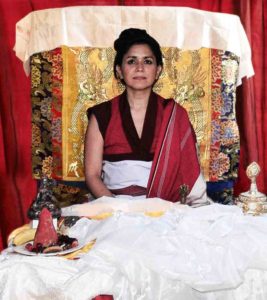 Pema Khandro
Pema Khandro is an internationally renowned teacher and scholar of Buddhist philosophy. Ordained in the Nyingma lineage, enthroned as a tulku, and trained as an academic, her teachings celebrate the dynamic coalescence of tradition and the modern context. She is the founder of Ngakpa International and its three projects: The Buddhist Studies Institute, Dakini Mountain and the Yogic Medicine Institute. In her work as a Buddhist teacher she is an authorized Lama and lineage holder of the Nyingma and Kagyu traditions and was enthroned to carry on the lineage of her predecessor, the first Pema Khandro, an early twentieth century…
Learn more about Pema Khandro