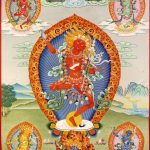 Dakini Mountain is named after the Dakini principle because this term –  Dakini –  expresses the principle of diversity in creative expression that is the phenomenal world.  The notion of Dakini in the Great Perfection (Dzogchen) goes hand in hand with the teachings of the five elements and the five wisdoms. Each of these are represented by a variety of enlightened female figures, known as Dakinis, the Five Wisdom Dakinis.་
They are different colors, different body shapes and different personalities thought to represent the spectrum of wisdom qualities in human beings – joy, clarity, dignity, fearlessness and peace.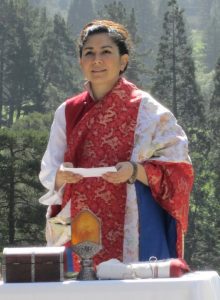 Pema Khandro Rinpoche will be leading Invoking the 100,000 Dakinis retreat from June 7th – 9th, which will include ritual land blessings, Buddhist teachings, meditation, yoga, organic vegetarian meals, communing with nature, community enjoyment and celebration!
Invoking the 100,000 Dakinis is a practice to raise radical courage and vivid presence. It invites protection, support and wakefulness within the mandala of the five elemental wisdoms and the meditation of Vajrayogini… 
Sunday 1-5pm – Dakini Mountain Land Blessing
Land blessing & Laughter of the Dakini's Chod, open to all donors, members, and friends. Celebrate the 20th Anniversary of our organization and of Pema Khandro Rinpoche's teaching as well as the epic occasion of acquiring Dakini Mountain.