Dear Friends and Members,
We are fast approaching a special day in the history of our community, the consecration of Dakini Mountain, Pema Khandro's life long dream and the celebration of twenty years of her teaching.
This occasion has been transformed, as everything else has, by the global pandemic. As a result we are being creative about how to raise positive energy for the Dakini Mountain consecration while also supporting the shelter-in-place orders which are so necessary to promote the greatest safety possible.
From May 29th-31st, join us in an online meditation retreat led by Pema Khandro. We will also host special guest teacher Drupon Rinchen Dorjee Rinpoche who will bestow the Vajrayogini empowerment. The weekend will focus on a Buddhist meditation retreat in your own home, through an online retreat format.
This retreat celebrates the installment of the Vajrayogini shrine at Dakini Mountain, a pilgrimage site for Vajrayogini in the Lake Tahoe National Forest of Northern California, founded by Pema Khandro. Vajrayogini is regarded as the essence of all buddhas, venerated by every sect of Tibetan Buddhism and venerated by Buddhists (and Hindus) all over the world. Vajrayogini is the symbol of the freedom and power of intrinsic wisdom and the enlightened feminine wisdom that severs suffering at its root.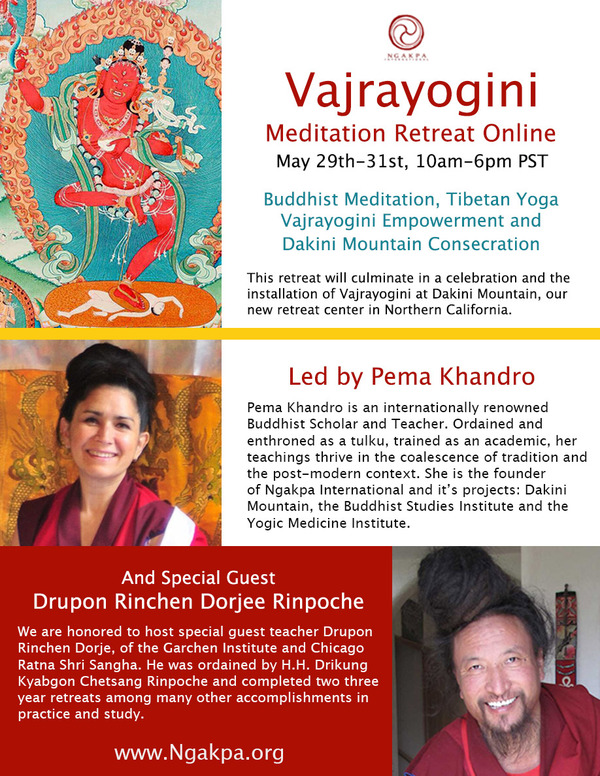 ---
Fear as a Path to Liberation:
Dakini Day Chod – Online
June 16th, 1pm

PST (UTC-7)
Chod is a meditation method through meeting fear and neurosis with compassion and skill. 
This is a Tibetan meditation which is a potent, dynamic practice for cutting through fear and facing death. It is a practice of healing through ultimate compassion. The practice is the Dzogchen Chod, known as Khandro Geykyang, the Laugher of the Dakinis, the concise version. Rinpoche will lead the practice and discuss its meaning. This has been a monthly practice in Virginia for the last two years on Dakini Day, but in-person Chod practices are cancelled and Pema Khandro Rinpoche will now be offering Chod practice online for the first time, in order to support Vajrayana practitioners during the worldwide pandemic.
Donations Welcome ~ No one turned away for lack of funds
---
UPCOMING TEACHINGS ONLINE

May
May 27  –  Open Teaching: Buddhist Philosophy Online
May 29-31  –  Vajrayogini Retreat & Dakini Mountain Consecration

Dakini Day Chod
June 16th – Fear as a Path to Liberation
July 15th – The Five Wisdom Dakinis
---
Copyright Ⓒ 2019
Ngakpa International • PO Box 2396 • Nevada City, CA • USA